Fwd: Tree in Srinagar,uttarakhand 9-9-18 : 7 posts by 3 authors. Attachments (3)
---
A member of Ceasalpiniaceae (now Fabaceae). The bluish white patches are due to formation of lichens. It indicates the surrounding environment is clean (free from pollution).
---
Pl. check comparative images at
---
Could be Albizia odoratissima.
---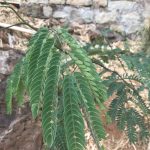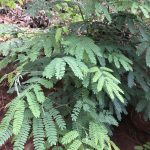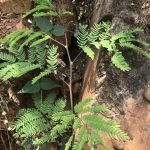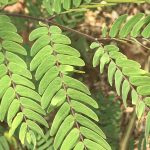 Plant for ID: Chikmagalur: 10/4/2021
: 5 images.
Please help ID this plant. It was photographed
inside a resort
in Chikmagalur.
Some of them looked like they were planted, and some looked wild, growing near rock crevices.
They were all between 2ft to 4ft in height, so I am not sure if they could become trees.
And they had no flowers are fruits.
Date photographed: 10/4/2021
---
Albizia odoratissima
---
Thank you very much for the ID. Checking online, I find that it has white flowers. Since this plant did not have any flowers, why are the other identifying features the help determine the plant? I'm asking this since there are so many plants with similar leaves, and I found it very confusing to distinguish between them.
---
Pinnae arrangement, leaflet number and shape will help in ID,
---