Begonia nuwakotensis S.Rajbh., Gard. Bull. Singapore 62: 144 2010. ;
Location: Jitpur Phedi, Nepal
Date: 19 June 2018

Habit : Wild
---
Doesn't match anything from Nepal, and not palmata as the hairs are very different.
---
I checked all check list of Nepal but could not match
however I hope some links below may help to come
close to the ID.
---
Thank you …! By the way I did check all in the EFN list but could not come to any decision.
---
then it must be an escapee from the countless nurseries that do contractual growing of tissue culture, seedlings etc. may be thats the answer. what is the natural range? and what countries is it a popular houseplant. will be the key to tracking
---
I am a bit skeptical about its possibility of being escapee since it was found near a water stream hidden under bushes like other wilds and there is no nursery in the vicinity!
By the way any hint ?
---
Me too. It looks like an ally of B. baviensis, or B. villifolia.
---
I checked both but does not look like matching!
---
ok
---
Begonia nuwakotensis S.Rajbh.  ??
---
Yes! Of course!! Well spotted!!
---
Thank you …! I guess you are too involved in the ID I guess !
---
Flower budding I guess for the same plant on 30 January, 2019.
Attachments (4)
---
The hairs differ from palmata. I think this B. annulata.
---
These images are from the same plant / location earlier identified as Begonia nuwakotensis S.Rajbh. which earlier I guessed as B.palmata.
---
---
.
---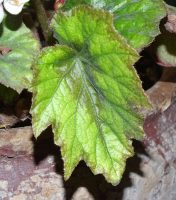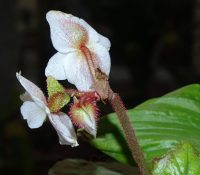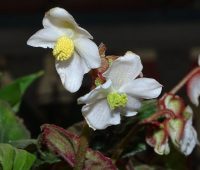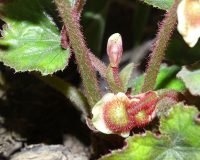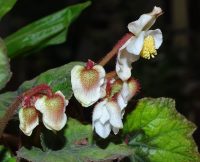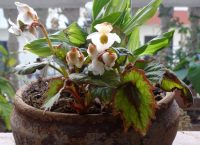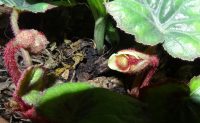 Begonia nuwakotensis S.Rajbh.: 8 very high res. images.
Location: Gyaneswor, Kathnadu, Nepal
Date: 12 April 2023
Habit: Tamed from the wild. Bloomed after 4 years.
---
References:
Catalogue of Life  The Plant List Ver.1.1  WCSP  IPNI  POWO 
Three New Species of Begonia Sect. Platycentrum from Nepal
–  S. RAJBHANDARY  M. HUGHES
AND K. K. SHRESTHA

–

Gardens' Bulletin Singapore 62 (1): 143-153. 2010

(Abstract- Three new species of Begonia (Begoniaceae) are described from Nepal. All three species (Begonia nuwakotensis S. Rajbhandary, Begonia panchtharensis S. Rajbhandary and Begonia taligera S. Rajbhandary) belong to Begonia section Platycentrum, and they increase the number of Begonia species known from Nepal to 22. All are considered to belong to the IUCN threat category VUD2

.)