Vigna adenantha (G.Mey.)Marechal & al., Taxon 27: 202 (1978) (syn: Dolichos oleraceum Schum.; Phaseolus adenanthus G.Mey.; Phaseolus adenanthus var. caeduorus (Benth.)Hassl.; Phaseolus adenanthus var. radicans (Benth.)Hassl.; Phaseolus alatus Roxb.; Phaseolus amarus auct. non L.; Phaseolus amoenus Macfad.; Phaseolus barbulatus Benth.; Phaseolus brevipes Benth.; Phaseolus caeduorum Benth.; Phaseolus caracalla auct. non L.; Phaseolus cirrosus Kunth; Phaseolus cuernavacanus Rose; Phaseolus cumingii Benth.; Phaseolus latifolius Benth.; Phaseolus macfadyeni Steud.; Phaseolus occidentalis Rose; Phaseolus radicans Benth.; Phaseolus rostratus Wall.; Phaseolus senegalensis Guill. & Perr.; Phaseolus subtortus Benth.; Phaseolus surinamensis Miq.; Phaseolus truxillensis Kunth; Vigna caracalla sensu auct.; Vigna gentryi (Standl.)Stainier & F.Horvat);
Tropics & Subtropics as per
POWO
;
.
Andaman Is;
Angola; Bismarck Archipelago; Brazil; Cambodia; Cameroon; Caribbean-TRP; Colombia; Costa Rica; Fiji; Gabon; Gambia The; Guinea; Guinea Bissau; Guyana; Hawaii;

India;

Indonesia; Irian Jaya; Laos; Liberia; Madagascar; Malaysia; Mali; Marquesas; Mauritius; Mexico; Nigeria; Northern Marianas; Panama; Papua New Guinea; Paraguay; Peninsular Malaysia; Philippines; Reunion; Ryukyu Is; Sao Tome & Principe; Senegal; Seychelles; Sierra Leone; Society Is; Solomon Is;

Sri Lanka;

Sudan; Sulawesi; Taiwan; Tanzania; Thailand; Togo; Tubai Is; Vietnam; Zaire
as per
Catalogue of Life
;
---
Twining or trailing perennial herbs; stems glabrescent. leaflets 3-8 x 1.8-4 cm, ovate, ovate-elliptic or elliptic-lanceolate, base rounded, apex acute or acuminate, both surfaces with adpressed sparse pubescence; petiole 3-8 cm long; stipules 4-7 mm long, lanceolate, basifixed. Racemes 5-14 cm long, 6-10-flowered. Flowers 2-3 cm long; pedicels 2-3 mm long; bracts ovate-oblong. Calyx tube 3-4 mm long, sparsely pubescent; upper lobes partially connate; lower lobe c. 4 mm long, lanceolate. Petals dark pink or cream-coloured; standard 2.2-2.8 x 2.3-2.5 cm, suborbicular, emarginate, cream-coloured; wings obovate, pink; keels spirally incurved. Ovary linear, pubescent; style deflexed, hairy towards apex. Pods 6-11 x 0.6-15-seeded. Seeds reniform, black.
Flowering and fruiting: August-December
Coastal areas along the banks of backwaters
(Attributions- Dr. N Sasidharan (Dr. B P Pal Fellow), Kerala Forest Research Institute, Peechi as per
India Biodiversity Portal
)
---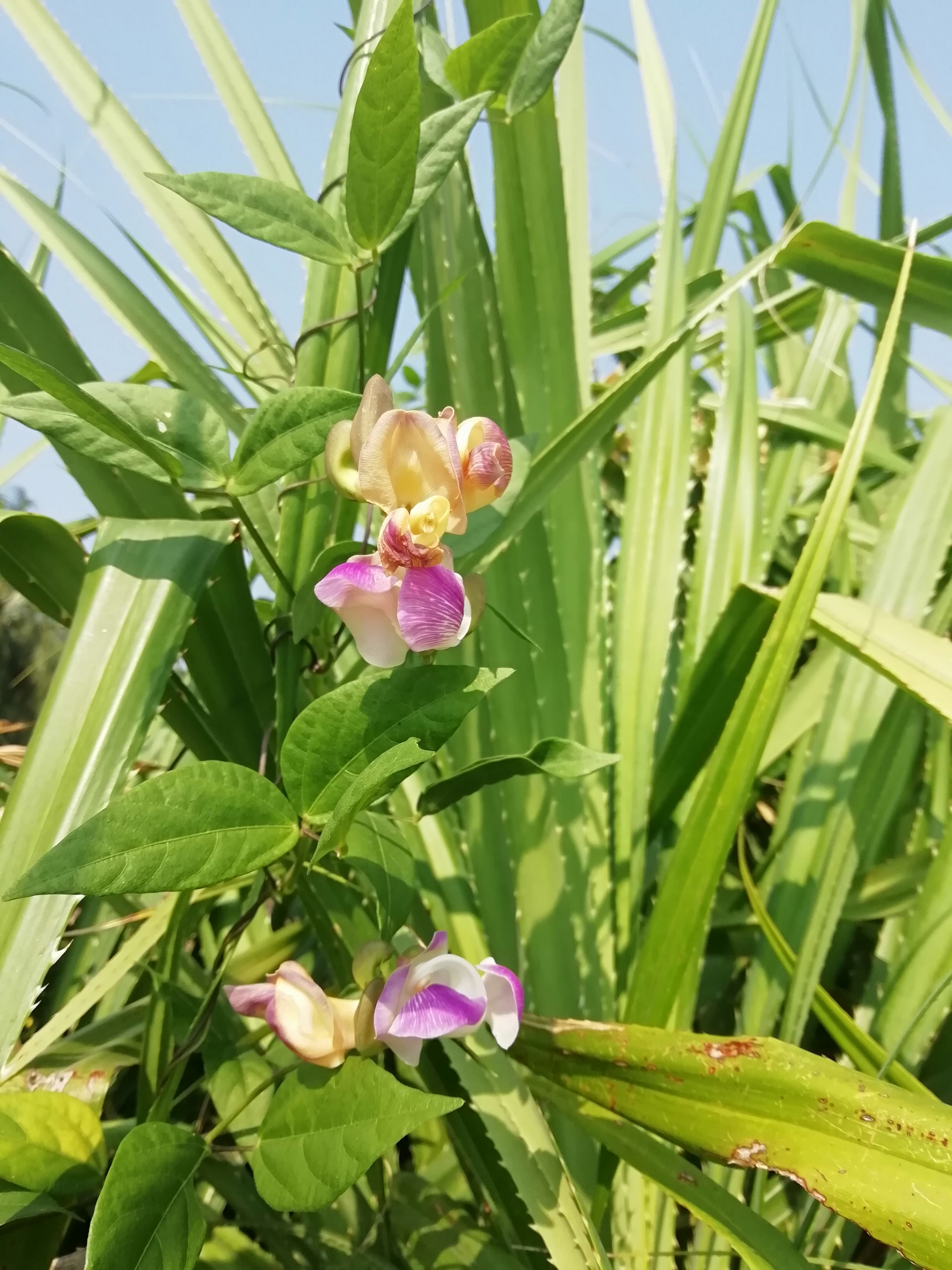 Habitat : Bush in sandy area
Location : Saint Martin Island, Bangladesh
---
Appears to be some Vigna species. Pl. check comparative images at
---
Please check Fabaceae from your area.
---
It is a member of Fabaceae
---
Vigna adenantha (G.Mey.) Marechal
---