Thunbergia battiscombei Turrill, Hooker's Icon. Pl. 31: , t. 3041 1915. (syn: Thunbergia adjumaensis De Wild.);
---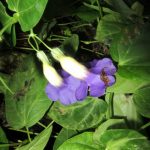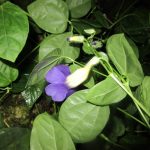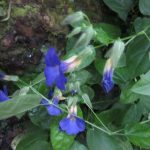 Thunbergia Species for ID : Conservatory : Atlanta Botanical Garden : Atlanta, Georgia : 02DEC18 : AK-08
: 8 posts by 2 authors. 3 images.
Thunbergia
Species seen at the Conservatory.

Could be
Thunbergia battiscombei
?
---
I think first image is different from others.
---
It's the same plant. Check the leaves.
First picture taken in low light, the other two with flash.
---
Sorry, You could be right. I'm not so sure now.
---
To me sepals and corolla tube look different.
---
Yes … Seem to be two different Species. I hadn't noticed earlier.
---
Attached image i.e. your first image appears to close to Thunbergia battiscombei as per
---
On further checking, all images are of Thunbergia battiscombei Turrill
---
Thunbergia erecta
,
T. battiscombei
,
T. grandiflora
(I think the leaves are wrong or this plus the flower on yours appears smaller),
T.  holstii
(I think your blooms are a more pale purple than this one)
Had this already been identified previously?
/species/a—l/a/acanthaceae/thunbergia/thunbergia-battiscombei
---
Thanks, … It does not match with any other species. It is
T. battiscombei
only as per
Wikimedia Commons
and as per