Buxus microphylla Siebold & Zucc., Abh. Math.-Phys. Cl. Königl. Bayer. Akad. Wiss. 4(2): 142 1845. (syn: Buxus obcordata Moore; Buxus obcordata-variegata Fortune; Buxus ovalifolia Siebold ex K.Koch; Buxus rotundifolia hort. ex K.Koch; Buxus sempervirens Thunb.; Buxus virens Thunb.);
India:

On dry rocks

at 3500-4000 m altitudes. Uttarakhand; Japan and Taiwan
as per
BSI Flora of India
;
---
I remember to have seen similar plants in USA in many places and they are used for topiary. I think your plant belongs to the genus Buxus (Buxus species). Buxus sempervirens  is very common there. Please check whether the characters tally with Buxus sps.
---
To me appear close to as per images of Buxus microphylla (as suggested by … for other posts) at
---
---
Picture has not come out well so was rather reluctant to post it.
Was given the name, but I don't seem to recollect it.
Any clues to the id?
---
If it is a herb then, it could be Sarcococca and if it is shrub then it could be some Buxus species.
---
This plant, posted earlier could also be Buxus Species as suggested by …
---
I think, it should be Buxus microphylla.
---
Thanks, …, for the id.
To me also appear close to as per images of Buxus microphylla at
---
---
Seen
at the Bonsai Show
in MNP, Mumbai on 7/3/14.
Name given was
Boxwood
.
Very tiny leaves
---
I too have
posted this plant
but have not been able to get its ID.

It is a very common bonsai plant and is available in many nurseries.
---
On searching, it seems to be a Buxus species.
---
Could it be Buxus sempervirens?
---
No, I don't think it is Buxus sempevirens…
I will upload what I think is Buxus sempevirens tomorrow….
---
Buxus– – some species in India & eFI with some keys
---
Please try Buxus papillosa which is commonly called Box-wood tree.
---
Attaching detailed photographs of Buxus microphylla (Cultivated)
Shimla
October 2018
---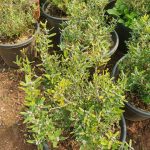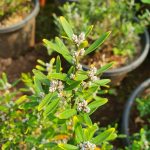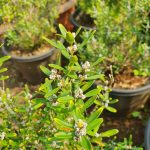 Garden Plant for ID : Nasik : 08JAN22 : AK – 11
: 3 images.
Seen at a plant nursery
in Nasik this week (8.1.22).

A cultivated plant.
---
I think from Polygonaceae
---
Check with Buxaceae ma'am, Buxus papillosa,
---
It seems to be the same plant I have posted earlier from a couple of plant exhibitions in Mumbai.
Could we check with
Buxus sempervirens
?
---
Buxus microphylla suggested by the nursery owner.
---
With these ornamentals that is the problem ma'am,bwe don't where they were brought from, unique species or crossed don't know,
---
Very true, totally agree with you.
---
It does not look like a Polygonaceae member to me.
---
Yes, definitely not from
Polygonsceae.
It was identified as
Buxus microphylla
from the person at the nursery.
---
.
---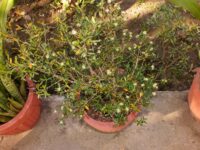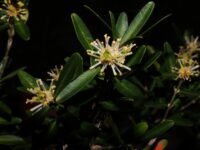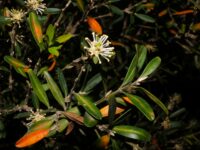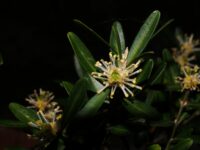 Ornamental Shrub for id:: NS September 2022- 01: 4 images- 1 high res.
This potted shrub was recorded from a herbal garden
in Haryana…
I think it is a Buxus sp.
Can we go further with these pics?
---
Pl. check https://efloraofindia.com/2013/09/25/buxus/
---
Buxus wallichiana Baill. ??
---
I think close to images and details at Buxus microphylla Siebold & Zucc. rather than those at Buxus wallichiana Baill.
---
References:
Catalogue of Life  The Plant List Ver.1.1  IPNI  BSI Flora of India  Wikipedia
https://www.worldplants.ca/display.php?id=1838