Thailand to Laos
as per
WCSP
;
.
---
---
Gardenia sp. Rubiaceae
---
so was it wild or someone planted it? do you know? …
such single flowers are not popular nursery plants, rarely seed in planted gardens
hence the question
I would like to know the name of the garden and its possible history…
---
This is a Municipal Garden in Thane near Mumbai. This plant must definitely have been planted there.
This garden is really worth seeing because even though it is a municipal garden, it has a wide variety of plants and small trees, planted, both native and exotic and ornamental and it is maintained quite well.
---
Nice to  know
so this type of Single gardenia is still in vogue and nurseries must be carrying them for a municipal garden to buy and plant them
Good for the folks around and may be us as tourists sometimes
will remember to go there
---
The reason i was asking you this was its rather rare… i have not seen one in india
see it a dave's gaden
even there very few (dave only has one nursery listed ) places sell them
so do you think you can perhaps find out from the gardeners where do they buy their nursery stocks
i would like to buy one
have not see one in Bengal
Again thanks for showing a nice rare sight
ONE MORE JOB FOR YOU
KEEP AN EYE ON IT SEE IF IT FRUITS>>
NONE OF THE  SINGLE/DOUBLE GARDENIAS IN INDIA i have  seen or followed have ever shown  FRUIT in urban setting
I think … from orissa had shown one  a few years aback.. but that was wild i think…
---
However, both these names do not feature in the Plant List.
Is this some hybrid?
---
Gardenia species in eFloraofindia (with details/ keys from published papers/ regional floras/ FRLHT/ FOI/ Biotik/ efloras/ books etc., where ever available) 
---
are you a botany student?
---
i asked because if you are botanist or a student of botany
its not ok for you to rely on them..
dave's site and toptropicals are ok for quick id but scientific data????
but then neither is plant list complete or completely knowledgeable about indian and asian flora

look up old threads gucharnaji has written to them about many omissions and some commisions of mistakes..

you have to go to your books and new reserach journals

what do the DNA analysis say, where do they assign plants of rubiaceae group?
how do they classify or reclassify them..
find the history of this person Kai larsen
why did he or she feel herself so important as to name it after self? so on on on … good luck

to me its a gardneia and snowflake is a very apt description of a flower, its petals curl after a few hours of opening…

you can go back to the garden and do observation yourself..
---
I am not a student of botany and hence a host of silly questions….
---
that's ok
neither am i but i am eternally curious and
do a lot of research and read read and read

citizen scientists have done wonders in the past and will do again

who knows you may be one? someday
---
May be Gardenia resinifera.
---
May also be a cultivar of Gardenia jasminoides J. Ellis.
---
btw, everybody has his/her own view – http://www.natureloveyou.sg/Kailarsenia%20lineata/Main.html
---
well… interesting thoughts
…
help us

can you get to that plant again?

if you can

see if its scented…

gardenia gummifera
is NOT scented.. its an important medicinal gardenia …

its fruits develop often in burma china indenesia etc and … had shown one case i think from orissa.

… yes ultimately its all cultivars/ hybrids of the original gardenia… short of DNA analysis of the entire clan … its not going to be resolved… single gardenias and double gardenias are all scented more or less
---
my guess is based on calyx of this species.
Gardenia gummifera, G. resinifera are two different taxa.
Flowers of G. resinifera are fragrant.
Flowers of
G. gummifera
 can be fragrant if FBI, Roxburgh and TPL are correct about
G. arborea
Roxb.
Flowers of
G. jasminoides
 are fragrant.
---
"
Gardenia gummifera
, G. resinifera are two different taxa."
fine but they are both देकामाली Dekamali in our languages and treated as such
one flower is usually scented , other not, and
Short of GC- mass spec there is no real way to tell the dikamali apart no matter what old books say
---
Thank you Didi for your view. To me those two are different as per our group view and as per lit. as latest as 2004.
In short, calyx of each species we have discussed so far in this thread is different and distinct and can easily be recognizable.
---
Thank you everyone for this give and take of knowledge.
Hopefully I should be visiting this garden in the coming days…
Will report post my visit.
---
Kailarsenia

 lineata (Craib) Tirveng.
Synonym: Gardenia lineata Craib       
Rubiaceae
English Name: Vietnamese Gardenia

---
I thank you and … I am glad even with all those name confusion stories. its finally Vietnamese gardenia, what I said to begin with
=====
Now I want to hear from anybody else knowledgeable in history of botanist  personalities if they can tell us about this Kai Larsen. why did  he/she felt such a need to name it after him/herself? nobody else has ever named anything else after this person… in science that's just about not done, at least not now
---
After i tut tutted about Kai larsen as to  who is he or she etc.
I found he was

a botanist

and seems to have visited Vietnam and written this following
1:
Vascular plants synopsis of Vietnamese flora  Kai Larsen, Article first published online: 28 JUN 2008, DOI: 10.1111/j.1756-1051.1996.tb00264.x
===
and before that  his work was honored by this paper
Larsenaikia, a new genus of the Rubiaceae from Australia
D. D. Tirvengadum
Article first published online: 28 JUN 2008
DOI: 10.1111/j.1756-1051.1993.tb00034.x
Nordic Journal of Botany
Volume 13

,

Issue 2

,

pages 175–184, June 1993
==
I cant access these. anybody from university can, i think. I'll appreciate if you can ask  some university folks to may be get them? and our mystery would be solved.
Thanks, … However leaves look different at Toptropicals for Kailarsenia lineata
http://toptropicals.com/kailarsenia_lineata.htm
but matches with Gardenia (Kailarsenia) vietnamensis
http://toptropicals.com/GARDENIA_VIETNAMENSIS.htm
However I could not find any name in the Plant List for Gardenia (Kailarsenia) vietnamensis
---
Some info before Dr. Varun replies –
Didi is correct! it is commercially known as

Vietnamese Gardenia

, or "

snowflake

" also same or similar cultivars."moonspinner"
Kilarsenia lineata (Craib.) Tirveng. is a rheophytes
this plant is nothing but a

cultivar

of G. jasminoides
Thank you
---
The difference between the two genera and key to certain Kailarsenia species, not helpful for this thread though – Academia
---
Yes sir you are right as specific epithet denotes (lineata) means linear shape for leaves; Gardenia (Kailarsenia) vietnamensis is a horticultural form of Kailarsenia. In fact, taxonomically Gardenia vietnamensis is not a valid species. In physical comparison of flowers from this plant and Kailarsenia lineata, the differences are the broader leaves in "K. vietnamensis"-  Rubiaceae specialist (Flora of Thailand) Prof. Dr. Christian Puff, Faculty Center of Biodiversity (formerly Institute of Botany), University of Vienna, confirms same floral morphology in both.
---
Thanks you very much, … Then I take this as you stated earlier.
---
There is nothing new to this reply, I am afraid, we have already read that in –
Would … explain –
Why corolla

tube is so long than the type species

?
Why calyx lobes are significantly longer than the type species?
Why flower form deviates from

funnelform in type species

to slaver form?
Would … inform how to differentiate the cultivated form of
Kailarsenia lineata
(Craib) Tirveng with the one illustrated and described in the attached pdf file?
Unless the above issues are addressed I am not buzzing off.
---
To see photograph of Kailarsenia lineata please go to
http://homepage.univie.ac.at/Rub_pics_1.htm
click "thumbnails panel" no. 11
click 4th and 5th photographs from the left
I agree that flower looks somewhat similar to the one in this thread.
click "thumbnails panel" no.3
click 5th photograph from the left
---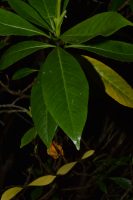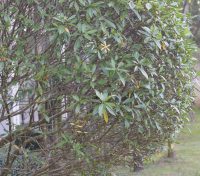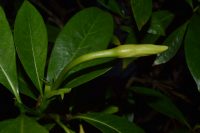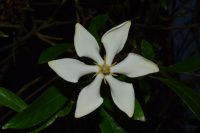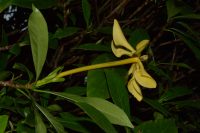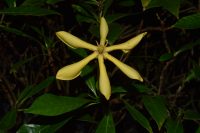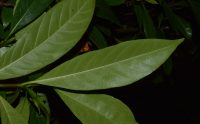 SK 2446 09 February 2020
: 9 posts by 2 authors. 7 images- 6 to 7 mb each.
Location :  Koh Chang, Thailand
Gardenia carinata Wall. ex Roxb.  ??
---
---
Thank you …!
Syn : Gardenia lineata Craib
---