Edgeworthia chrysantha Lindl. (syn: Daphne papyrifera Sieb. (ambiguous synonym); Edgeworthia papyrifera (Sieb.) Sieb. & Zucc.; Edgeworthia tomentosa (Thunb.) Nakai; Edgeworthia tomentosa (Thunb.) Nakai; Magnolia tomentosa Thunb.; Yulania tomentosa (Thunb.) D. L. Fu);
China (Henan, Shanxi), Japan (I), Myanmar [Burma] (Kachin, Sagaing), USA (I) (Georgia (I)), Korea (I)
as per
Catalogue of Life

;
---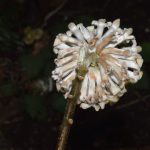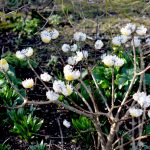 SK 3355 14 March 2022: 3 very high res. images.
Location: Langton Garden, Romford, UK
Date: 26 February 2022
Habit : Cultivated
Edgeworthia chrysantha Lindl. ???
---
Agree…. Edgeworthia chrysantha.
One of my favourite shrubs.
The stems are so supple you can tie them in a knot.
In Japan the bark used to be used for making  high quality paper.
In Sikkim I have seen a book printed on such paper.
---
Hope you are able to see some of my pictures. See below.
Flickr
---
.
---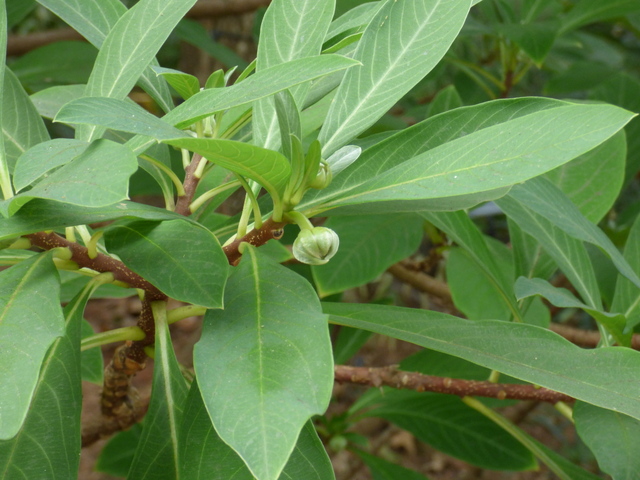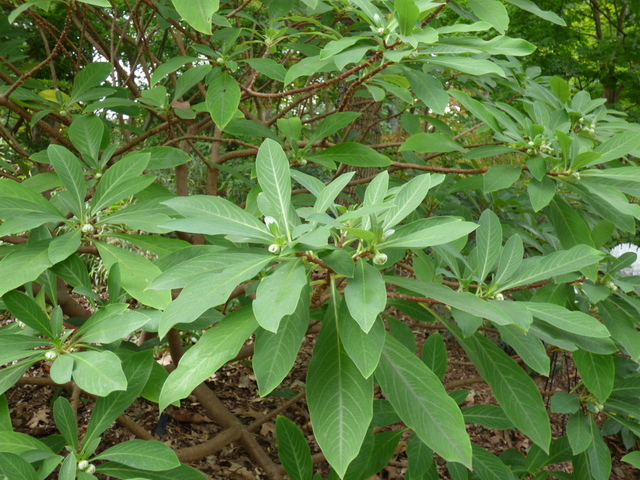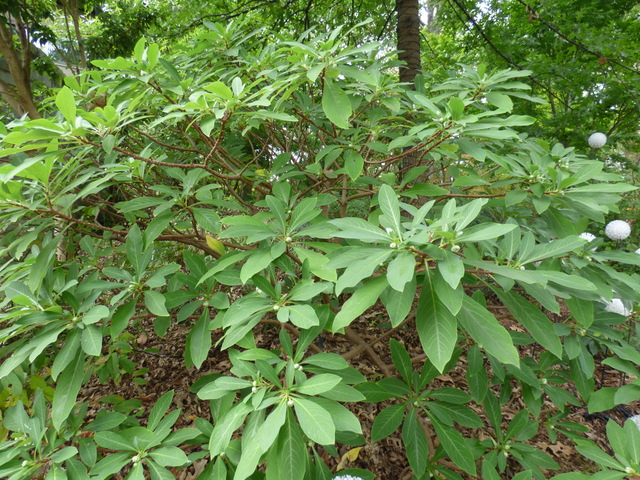 Small Tree for ID : Atlanta Botanical Garden : Atlanta, Georgia : 21JAN19 : AK-41 : 10 posts by 5 authors. Attachments (4)
Seen at the garden on 19th Oct,18.
---
I agree. These are the unopened flowers of Edgeworthia chrysantha.
One of my very favourite winter flowering shrubs.
Please see my pic library.
---
I agree. i have been racking my brain for the name. you got it
---
Your flickr spread is wonderful. third picture shows open flowers and no leaves and has a label below it. where was this set of pictures taken. i am trying to figure out the climate or USDA zone of the plant from your pics
---
Thank you. I hope you can revisit to see the flowers which may be there right now. I love this shrub. All the pics were taken in our own garden in South Wales…near Cardiff in UK.
I have also seen it growing  superbly in the wild near Darjeeling….  which gets rather cold.
---
wow you go thru that kinda effort?
---