Philippines (Luzon)
as per
WCSP
;
.
---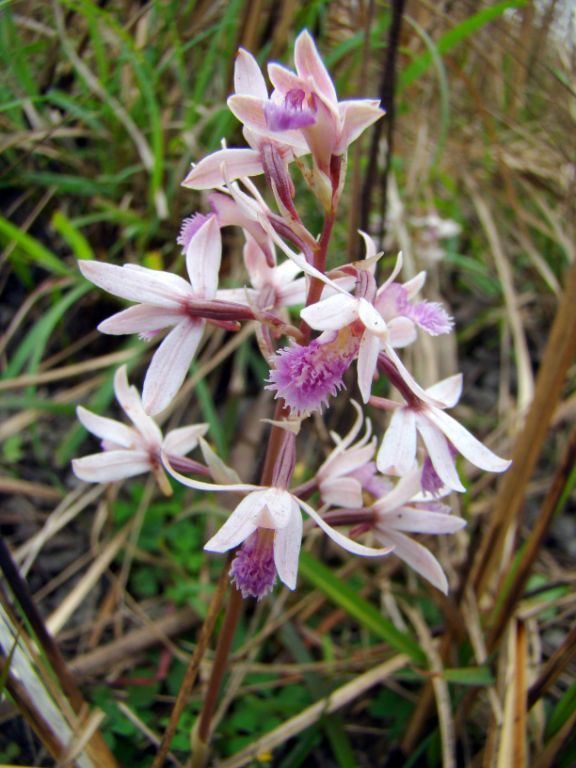 Please identify this species of ground orchid from Manas National Park… observed inside a burnt grassland ….
---
Eulophia dabia (D.Don) Hochr., Bull. New York Bot. Gard. 6: 270 (1910).
---
Thanks for this very important series. Missing the local names. I have to check my database for the local names in Chhattisgarh, Orissa, Jharkhand and surrounding areas. For example Vanda is known as Kauagodi in Chhattisgarh Plains. The southern Chhattisgarh it is considered similar to Majurgodi. In Orissa it is known by alteast ten different local names. Little excercise is required so that we can write the local names in Dinesh ji's style.
---
those are cute names. I assume godi means laps? Crow's Laps, Peacock's Laps….. What do you think they are related to….
Very commonly Vanda is called BANDA by the tribals of JHK. But that is meant for anything growing on other trees. Specifically they call Vanda tessellata as Bandar Kanwa, may be the petals look like ears of a Monkey by colour and appearance.
For your information, the name Vanda is inspired from the word VANADA in sanskrit which is used to describe any plant growing on other plant.
These Eulophias as often called Huka Kanda. Refering to the bulbous base and floral stalk, which gives it a appearance of HUKKA, the royal or the Rajasthani object used for smoking….. :)) ….and yes they are medicinal too.
---
Thanks for the information. When I posted the picture of Vanda to my farmers, traders and Healers of Jharkhand I received over 150 responses with tens of local names with interesting stories. Bandar Kanwa is one of these names. In North Chhattisgarh Bandar changes into Bendra.
Orchid was not by favorite subject but I continued to document the information. Now your expertise in this field is motivating me to recollect the memories again.
---
hehehehe….for sure orchids have high potential for medicinal value, you just need to know and understand. Any plant which is succulent or xerophytic in nature stores a lot of alkaloids and other active constituents in them which is the main source of their medicinal properties. You never know, you may find something extraordinary soon!!
So best of luck.
---
I have been long confused with this group of Orchids, Eulophias, and keep rechecking and changing the names.
I think its a good news, that I believe this is not Eulophia dabia. WHY?
Because last week I found the plant that truly represents Eulophia dabia……
---
This plant matches well with Eulophia graminea
Eulophia graminea
Lindl., Gen. Sp. Orchid. Pl.: 182 (1833).
Synonyms:
Graphorkis graminea
(Lindl.) Kuntze, Revis. Gen. Pl. 2: 662 (1891).
Eulophia inconspicua
Griff., Not. Pl. Asiat. 3: 349 (1851).
Eulophia sinensis
Miq., J. Bot. Néerl. 1: 91 (1861).
Eulophia decipiens
Kurz, J. Asiat. Soc. Bengal, Pt. 2, Nat. Hist. 45(2): 155 (1876).
Graphorkis decipiens
(Kurz) Kuntze, Revis. Gen. Pl. 2: 662 (1891).
Graphorkis inconspicua
(Griff.) Kuntze, Revis. Gen. Pl. 2: 662 (1891).
Eulophia ramosa
Hayata, J. Coll. Sci. Imp. Univ. Tokyo 30(1): 332 (1911), nom. illeg.
Eulophia venusta
Schltr., Repert. Spec. Nov. Regni Veg. Beih. 4: 72 (1919).
Eulophia gusukumae
Masam., Trans. Nat. Hist. Soc. Taiwan 24: 208 (1934).
Eulophia ucbii
Malhotra & Balodi, Bull. Bot. Surv. India 26: 92 (1984 publ. 1985).
Please check the leaves as well as tubers to confirm. This is what happens when we id plants from pictures. I keep telling people to send me samples but till date I have got samples just from Ms. … But anyways, orchids I believe are one of the most peculiar group of plants and yet not understood properly. Their morphology changes with the environmental conditions and sometimes, so drastically that no one can reach to he conclusion, I am just a kid!!
---
Can you have a relook at id as to me looks different from images on net. 
---
I have checked it so many times in vain.
But, then I tried to look outside India and I came across a species called Eulophia dentata. Seems like a good match but I am not sure. Its not always good to identify just with one picture. Whatever it is, it is a new record for India.
Or, it is a deformed form of Eulophia graminea.
But I have seen lot of graminea across its range. I have known many Eulophia too but I have never seen a labellum with such dentate margin of midlobe.
The reason why I have been careful these days before attaching a name is that I made a mistake recently and I have lost my confidence. But trust me I tried hard to make this out..
Could very well be a new species.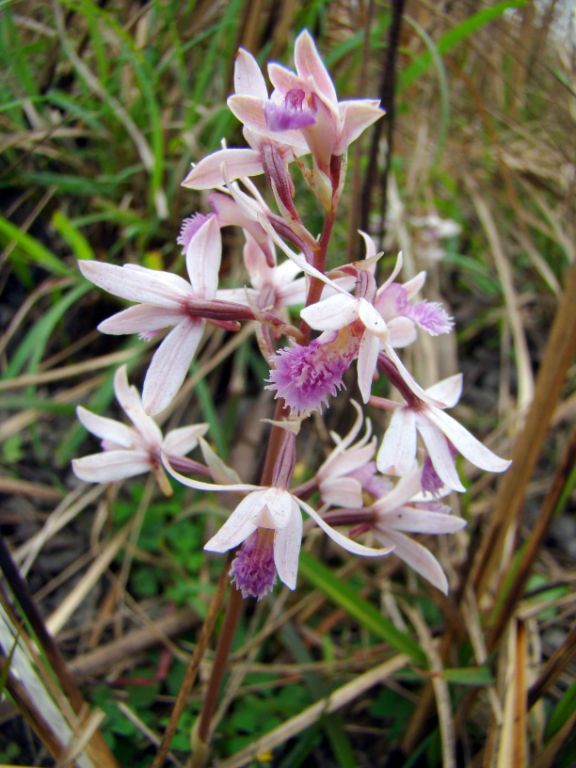 Ground orchid from Manas
1 image.
Please identify this species of ground orchid from Manas National Park……observed inside a burnt grassland …………
---
This has to be some Eulophia, may be Eulophia dabia!!
---