Astraeus hygrometricus (Pers.) Morgan, 1889 (syn: Astraeus hygrometricus f. decaryi (Pat.) Pat., 1928; Astraeus hygrometricus f. ferrugineus V. J. Staněk, 1958; Astraeus hygrometricus f. hygrometricus (Pers.) Morgan, 1889; Astraeus hygrometricus var. hygrometricus (Pers.) Morgan, 1889; Astraeus stellatus (Scop.) E. Fisch., 1900; Geastrum decaryi Pat.; Geastrum hygrometricum Pers., 1801; Geastrum hygrometricum var. hygrometricum Pers., 1801; Geastrum hygrometricum var. paucilobatum Wettst., 1885; Geastrum stellatum (Scop.) Wettst., 1885; Geastrum vulgaris Corda, 1842; Lycoperdon stellatus Scop., 1772);
---
Astraeus hygrometricus
False Earthstar/ Hygroscopic Earthstar
Family – Diplocystaceae
Habitat – Found growing in ectomycorrhizal association with Pinus roxburghii.
Photographed at Hamirpur, Himachal Pradesh 
---
the spores are unique i understand. did you get to stain and take pictures?
---
its spore dispersal is almost simillar to puffballs. Here i am attaching its image with brown spores.
Attachments (1)- 571 kb.
---
Thanks a lot. i meant microscopic slides with PAS or other stains
---
Astraeus hygrometricus looks like "earth stars" in the genus Geastrum, but its rays are "hygroscopic"; they cover the round spore case in dry weather but peel away from it in wet conditions. The inner (or "upper") surfaces of the rays become finely cracked, and the surface of the spore case is matted-fibrillose. The spore powder, at maturity, is chocolate brown—and, under the microscope, the spores are much larger than the spores of Geastrum species.

The above may be the difference from Geastrum species. I am forwarding a few earlier posts from …, which may be from Astrarus & not from Geastrum.
Pl. have a look.
---
---
This is a fruiting body of any fungi.. this was very closely placed on soil and was to be almost "uprooted", the picture was taken in same position as this originally was.. this is definitely not a fruit or a calyx as this looks like..
Its a Earth star fungus !!
Genus is "Geastrum", not sure about species !!
---
Geastrum species commonly referred as Earth star
---
Yes … has identified correctly.
---
I would have thought this to be Astraeus sp…
---
The Genus is Geastrum, sure, but unless the spore is examined it will be difficult to identify the species.
---
May be Astraeus sp. (as initially suggested by …) rather than from Geastrum as per discussions at another thread.
---
Yes …  Its definitely Astraeus sp. Can be Astraeus hygrometricus
These are often confused with Geastrum sp but in Astraeus sp. incurving (when dry) and recurving (when moist) of exoperidium occurs moreover exoperidium rays are harder and wrinkled in Astraeus while they are softer in Geastrum sp.
According to Cannon  &  Kirk (2007), Convergent evolution might have occured amoung Astraeus and Geastrum.
---
---
Geastrum triplex Jungh
: 6 posts by 3 authors. Attachments
(3
)

Sharing some pictures of 
Geastrum triplex
Jungh shot
at Sundarijal on 24 July 2016 at 6000 ft.
---
---
Than pl. try some other species.
---
Thank you … but I could not conclude the specific ID.
---
… … this is definitely not any Geastrum sp. It is surely Astraeus sp.
Likely Astraeus hygrometricus as this species is known from Nepal.
---
Thank you … I guess you are right since the book of Dr. Mahesh Adhikari says it is recorded in Sundarijal. Astraeus hygrometricus (Pers.: Pers ) Morgan
---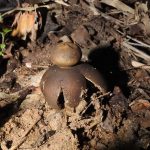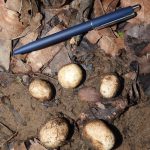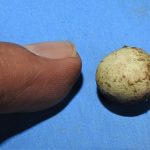 #Plants_of_Madhya_Pradesh-267
: 3 images.
Local Name in Madhya Pradesh: Sal Phuto (
साल
फूटो
)
Botanical Name: 
Astraeus hygrometricus 
(Pers.) Morgan
, Family: Diplocystidiaceae,


Umaria, Mahdya Pradesh, Aug-2017.
---
References:
mushroomexpert.jpg
https://mycoportal.org/portal/taxa/index.php?taxauthid=1&taxon=108703&cl=18
---