Loca
tion: Chandragiri, Kathmandu, Nepal
---
Any possibility of Jacobaea sp.??
---
4 more images.
---
You have some strange kind of Asteraceae in your collection, Sir ji.
It maybe something similar to those we discussed in your another thread –
efi thread
.
I will see if I can progress a little more.
---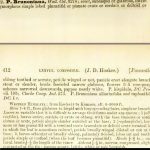 One probability 
Prenanthes brunoniana
 Wall. ex DC of 
FoN
 = 
Melanoseris brunoniana
 (Wall. ex DC.) of 
KEW
 = GBIF specimen from India – 
https://www.gbif.org/occurrence/1989371574
.
Description in FBI attached herewith.
Is there any redirection link of eFI ?
1 attachment
---
Actually I have checked all Notoseris, Lactuca, Penanthes, Cicerbita listed in Nepal but does not look like matching with any. The speciality of this sp. is leaves are bunched at stem nodes which I did not find with any of above sp.
---
Yes, Sir, I understand your concern.
I may have an explanation behind your point, for example, if you see the last picture, I think it's formation of a new branch with foliage.
It is expected that a stout 6 ft paniculate perennial would form lateral branches and a few leaves expected at the nodes, as
illustrated in a Lactuca
.
In support of my words, hints can be viewed at herb. –
But, it is quite possible that these are my imaginations, the fact might be that it is some other species. I will see if I can solve your concern.
---