Hovenia acerba Lindl., Bot. Reg. 6: , pl. 501 1820. (syn: Hovenia dulcis var. acerba (Lindl.) G. Sen Gupta & B. Safui; Hovenia inaequalis DC.; Hovenia parviflora Nakai & Y. Kimura; Zizyphus esquirolii H. Lév.);
China (Anhui, Fujian, Gansu, Guangdong, Guangxi, Guizhou, Henan, Hubei, Hunan, Jiangsu, Jiangxi, Shaanxi, Sichuan, Yunnan),

India (Punjab, Assam, Darjeeling, Himachal Pradesh, Uttar Pradesh, West Bengal, Assam, Meghalaya, Tamil Nadu), Nepal, Bhutan,

Myanmar [Burma]
as per
Catalogue of Life

;


.
---
Small to large deciduous tree 10-25m; branchlets pubescent, becoming glabrous. Leaves ovate or broadly ovate, 9-15 x 4-10cm, acuminate, base rounded or truncate often obliquely, margin sharply serrate, 3-veined at base, pubescent on veins beneath or glabrous; petiole 1.2-2cm; stipules minute, early caducous. Cymes terminal and in many upper leaf axils, 2-4cm diameter; penduncles pubescent, 1-4cm. Calyx lobes reflexed, triangular, c 1.5mm. Petals equalling sepals, concave, spathulate, spreading and enclosing stamens. Styles c 1.5mm, 3-lobed to middle. Fruit globose, 5-6mm, borne on swollen fleshy branched peduncles.
Subtropical and warm broad-leaved forests.
---
Thanks, …, Was it cultivated or wild?
To me appears close to Hovenia acerba as per
.
---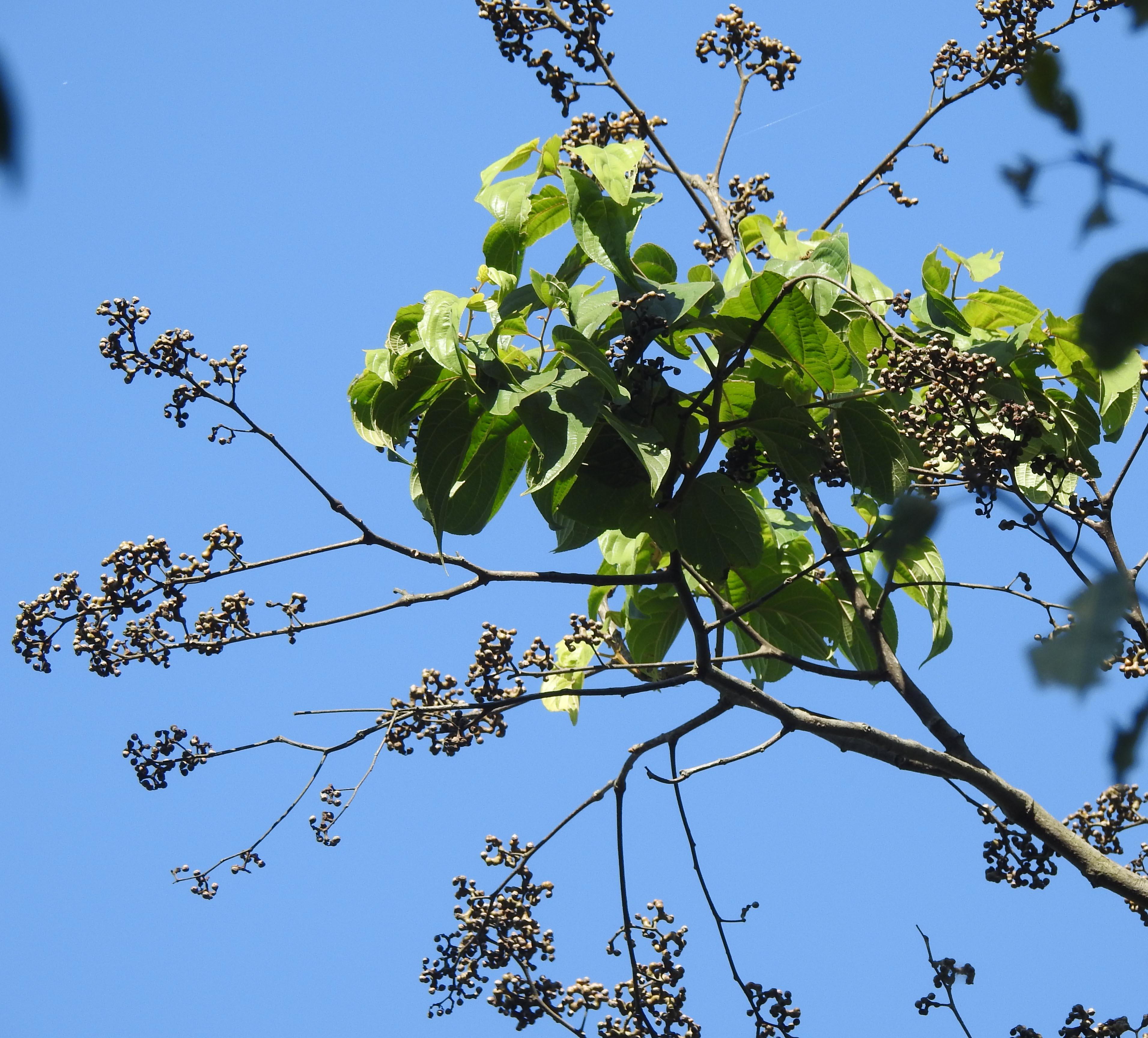 Request ID of a Tree : 6 posts by 2 authors. Attachments (3)
A tall tree (ht >20m) photographed in somewhat tropical area of Meghalaya (about 600 msl). Tree with irregular-looking fruits. Branched very far up, unreachable, therefore no close-ups obtained.
---
Appears to be some Malvaceae member.
---
Thanks …  The fruits look like a lomentum, but the stalk is in the middle, giving the fruits a somewhat irregular Y-shaped appearance.
---
I think it will be Grewia sp. (Tiliaceae). 
---
Could you check for Grewia species?
---
Not yet. Will let you know when I get to it.
---
It is not of Grewia, which is for sure.
I am no expert though it appears to me like some Homalanthus sp.
Kindly check with some expert on Euphorbeaceae.
---
---
As per this, none of the species mentioned in 
the link
 is reported from India.
Homalanthus populneus
is mentioned in some references, but looks different as per 
GBIF
.
It is not,
After your previous email, I had some checks and from the opinions I gathered, I could find the images looks close enough to be either Hovenia dulcis or H. acerba of Rhamnaceae.
Attaching the link from POWO by Kew here.
Kindly check both, and I must tell, it can be a different species from the genus Hovenia too.
I am no expert.
Kindly let me know too if any expert agrees to my thoughts on this.
---
A lively discussion on the tree. I have determined it to be Hovenia acerba, that is reported in Meghalaya.
---