Allmania nodiflora var. aspera (Roth) Hook. fil., Fl. Brit. India 4: 717 1885. (syn: Celosia aspera Roth; Chamissoa aspera (Roth) Wight);
I wish to share all the varieties of Allmania that I have collected.
Allmania nodiflora var. aspera (Roth) Hook.f.1.jpg
Allmania nodiflora var. nodiflora 2.jpg
allmania nodiflora var. procumbens 3.jpg
Allmania longipedunculata (Trimen) Gamble5.jpg
Allamania nodiflora var. roxburghii 4.jpg
---
Excellent work, …! Thanks for sharing some of the not-so-common varieties/forms of Allmania.
I only collected var.
dichotoma
, var.
nodiflora
, and A.
longipedunculata
from Tamil Nadu.
Thanks again for sharing the pictures.
---
Wonderful work, …
---
Thank you, …,
My ambition is to record all our native plants with photographs, since they are most useful and easy tools to know our  wealth; this a small step in this journey, UGC India has sanctioned me a project for digitalising the florstic resources of Velugonda hills  of E.ghats; the native place of Pterocarpus santalinus, Boswellia ovalifoliolata, Decalepis hamiltonii, etc., I am recording almost all parts of a plant in photographs. I am really astonished sometimes, and enjoying the work. JSGamble is my role-model.
---
Thanks, …, Best wishes in your wonderful journey!!!
A herb like Gomphrena.  Id is needed.
---
Have you found the ID of this plant?
If not, can it be Allmania, including A. nodiflora?
---
Yes It is Allmania nodiflora var. aspera.
---
Almania sps
---
I guess correct !
---
Looks similar to Allmania nodiflora Var. aspera as per post by … efi thread
---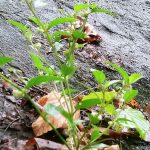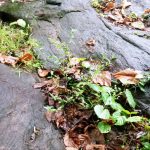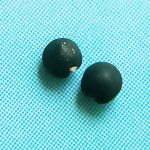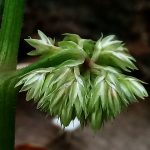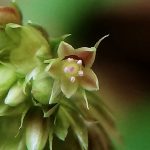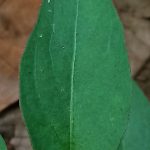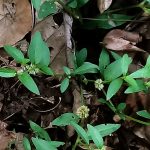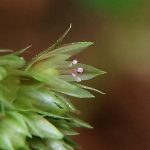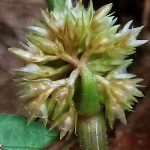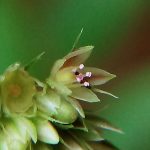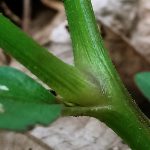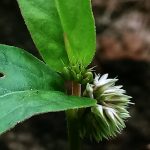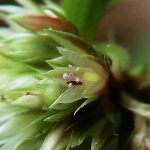 93 ID wild plant: 13 images.
Please ID wild plant.  Single plant of this kind growing here,
Location: near Reserve Forest, Chathamattom, Ernakulam District, (Kochi) Kerala PIN:686671
Flower date: 01.06.2021, 12.20pm
Altitude: 1400fsl
Habitat: wild, moisture, rocky
Plant habit: creeping/erect, branches, weak stem, less hairy, annual
Height: 40cm
Leaves: alternate, oblong, apex
Flower: diameter:02mm, whitish green, non fragrant, sepals lasts for days
Fruit: globular green
Seed: black, single for one flower, circular, diameter:2mm
Camera: mobile LG K10 2017 13mp +macro lens
---
Alternanthera ficoidea (L.) R. Br. ??
---
Thank you …, it is Alternanthera sp.
But no matching as per flower images. Also, leaves pattern is alternate.
---
Allmania nodiflora only
---
Yes, it is
---
Maybe Allmania nodiflora var. aspera (Roth) Hook. fil. as per comparative images at Allmania
---
---
.
References: Catalogue of Life  The Plant List Ver. 1.1  India Biodiversity Portal  Flora of peninsular India  Flora of Eastern Karnataka, Volume 2 By N. P. Singh (1988- with keys)