India (N);

Andhra Pradesh ; Bihar ; Gujarat ; Madhaya Pradesh; Maharashtra; Orissa; Rajasthan; Uttar Pradesh ; West Bengal ;

Laos (N); Myanmar (N) ; Thailand (N)
as per
ILDIS
;
Pl help me to identify the attached photos.
Observed
in Javvadu Hills, Thiruvannamalai Dist, Tamilnadu
A large climber with trifoliate leaves. Middle is larger than the lateral ones. Inflorescence axillary, erect.
I infer Rhychosia acutissima.
Pl offer your observations.
---
Could be Rhyncosisa sp?? Rhynchosia
---
…, any pods ? Full front view of leaf too !
---
Whether it could be Rhynchosia bracteata ?
---
I could not find any image or herbarium on search in net.
---
As per Gamble FPM, it may be R.accussima or R.sericea;  the leaves are long acuminate, 8-12cm long; pod is grey soft tomentose, without setose hairs; pubescence very short, fulvous; but the leaves look rhomboid;size not known, pod pubescence is not clear; hence without the particulars it is difficult to decide between R.sericia and R.accutissima;
---
Does not look like matching with both, R.acutissima or R.sericea
---
Yes, to me also looks different from Rhynchosia rothii (syn. Rhynchosia sericea Span.) as per images herein and also from Rhynchosia acutissima as per Flora of Peninsular India
---
Yes, pl. check with 
Rhynchosia bracteata
as per
GBIF
and specimens as below:
---
yes I agree with you
---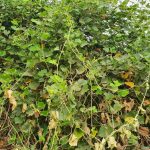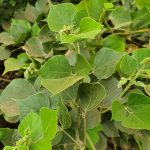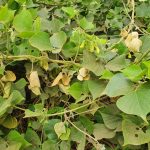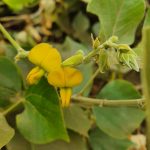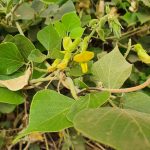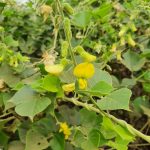 Climber for ID : Fabaceae : Nasik : 24JAN22 : AK – 37: 7 images.
A wild climber seen in Nasik (24.1.22?).
Vigna Species?
---
Rhynchosia bracteata
---