Symplocos macrophylla subsp. rosea (Beddome) Nooteboom (Syn: Eugeniodes roseum (Bedd.) Kuntze; Symplocos racemosa Wight ex C.B.Cl. (ambiguous synonym); Symplocos rosea Bedd.);
Common name: Rosy Sapphire Berry • Malayalam: Malankuruvi
---
Habit- Large shrubs or small trees up to 7 m tall.
Branchlets- Young branchlets angular to subterete, hirsute.
Leaves- Leaves simple, alternate, spiral; petiole 0.3-1.2 cm long, canaliculate, hirsute when young; lamina 7-20 x 3.5-6 cm, elliptic to narrow elliptic-oblanceolate, apex caudate-acuminate, base acute to cuneate, margin serrate or serrulate, chartaceous to subcoriaceous, glabrous, drying greenish; midrib canaliculate above; secondary nerves 5-10 pairs, lowermost pair straight and acute; tertiary nerves reticulo-percurrent.
Flowers- Inflorescence racemes, up to 4 cm long; flowers pink; pedicels up to 0.2 cm long.
Fruit & seed- Drupe, narrowly ovoid, 1.2-2 x 0.5 cm, red when ripe; seed grooved.
Understorey trees in wet evergreen forests up to 1200 m.
Endemic to the Western Ghats- South and Central (Wayanad to Chikmagalur Region) Sahyadris.
(Attributions- B. R. Ramesh, N. Ayyappan, Pierre Grard, Juliana Prosperi, S. Aravajy, Jean Pierre Pascal, The Biotik Team, French Institute of Pondicherry from
India Biodiversity Portal
) 
---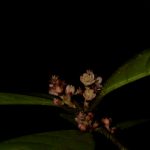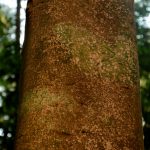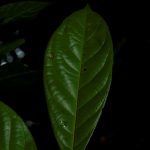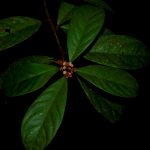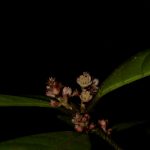 Your Symplocos macrophylla subsp. rosea images
: 6 images- around 6 mb each.
Please find attached, images of
Symplocos rosea
observed in mid elevation evergreen forests
around Valparai, Tamil Nadu.
---