Orobanche cernua var. pseudoclarkei S.M.H.Jafri ;
---
Is this Orobanche cernua var. desertorum? : 8 posts by 4 authors. Attachments (5) + Attachments (2)
Seen on the sides of mustard and wheat fields in Bera, Rajasthan, February 2020.
Not sure if it is Orobanche cernua Loefl. var. desertorum C.Beck., Orobanchaceae. There were no tobacco plantations in the area.
Please confirm
---
Thanks, …, for the wonderful presentation.
I am unable to see the calyx properly. Pl. check.
As per
Catalogue of life
,
Orobanche cernua
var.
nepalensis
DC. is a syn. of
Orobanche cernua
var.
desertorum
G.Beck with no distribution in India.
However,
Catalogue of life
gives distribution of
Orobanche cernua
var.
pseudoclarkei
S.M.H.Jafri in India.
---
Thank you …, this is very useful.
---
I posted this plant on iNaturalist and two people suggested that it is Phelipanche ramosa. Please see what you think.
Here is
the link
I do not know the credentials of Blue_celery.
In view, it is better to go for earlier id till some experts from our area say something else.
---
According to the CoL, it is  introduced in Nepal. So there could be a possibility for India as well.
This will help:
CABI
---
yes according to the link it is present in India.
---
Should I keep it as Phelipanche ramosa now?
---
I really don't know … It is ambiguous and maybe it can be left as such. With only photos to go on we can't always arrive at definitive answers.
---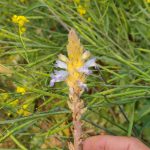 Identify the Orobanche sp.?
: 2 high res. images.
Habitat- Herb, 20-30cm height.
Common weed in field of mustards/parasite on Mustard crop
Date- 26/12/2021

Loc- Kota Rajasthan
---
It appears close to images at Orobanche cernua var. pseudoclarkei S.M.H.Jafri
---