Myriocarpa stipitata 
Benth., Bot. Voy. Sulphur 168 1846. (syn:
Myriocarpa densiflora Benth.
;
Myriocarpa densiflora var. dombeyana (Wedd.) Wedd.
;
Myriocarpa dombeyana Wedd.
;
Myriocarpa humilis Wedd.
;
Myriocarpa polystachya Wedd.
;
Myriocarpa stipitata var. ambigua Wedd.
;
Urtica spiralis Dombey ex Wedd.
);


.


S. Tropical America:

Argentina Northeast, Argentina Northwest, Bolivia, Brazil Northeast, Brazil South, Brazil Southeast, Brazil West-Central, Colombia, Ecuador, Peru, Venezuela

as per POWO;


.



---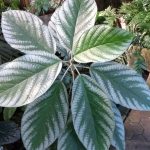 ---
Any other image showing the side view ?
---
Have only this picture with me right now.
I will have to go through all my pictures of the visit, which are not with me currently since I'm in Bangalore since the lock down began.
---
Can we check with Myriocarpa stipitata Benth?
This came from my search on Google Lens, a new feature.
Sharing a link…
For your feedback please.
---
Yes, it appears so.
Pl. further check minute details with high res. images.
---