Tropical & Subtropical Asia
as per
POWO

;
Assam; Bangladesh;

Borneo; Cambodia; China South-Central; China Southeast;

East Himalaya;

Hainan; Japan; Jawa; Korea; Laos; Malaya; Maluku; Myanmar; Nansei-shoto;

Nepal

; New Guinea; Sulawesi; Sumatera; Taiwan; Thailand; Tibet; Vietnam;

West Himalaya
as per
Catalogue of Life
;
---
Epiphytic herbs; up to 30 cm long; pseudobulbs fusiform, ca. 5-8 cm long, covered with scarious sheaths and fibres. Leaves simple, alternate; petioles ca. 2-10 cm long, articulate; lamina ca. 8-15 x 2-3 cm, oblong-lanceolate, contracted into a petiole-like stalk at base, acuminate at apex, apical margin finely toothed. Inflorescence lateral, arising from an intermediate node of pseudobulb, erect, 8-20 cm or longer; rachis 2-6-flowered; floral bracts lanceolate, ca. 1-1.5 cm; Flowers 2-2.5 cm in diam.; pedicel and ovary 2-2.5 cm; sepals and petals white or pale green, midvein sometimes purplish brown; lip white or pale green with purplish brown markings; sepals oblanceolate-oblong, 2.2-2.7 × 0.5-0.7 cm, apex acute; petals sub-oblong, 1.5-2.3 × 0.5-0.7 cm, apex acute; lip ovate-oblong, 1.5-2 cm, obscurely 3-lobed; lateral lobes erect and loosely clasping column; mid-lobe recurved, broadly ovate, 0.6-1.1 × 0.6-1.2 cm; disk with 2 longitudinal lamellae extending from base of lip to base of mid-lobe; lamellae convergent toward their apices and forming a short tube; column ca. 1.5 cm; pollinia 4, in 2 pairs. Capsule ca. 5 × 1.5 cm, narrowly ellipsoid.
Open forests, bamboo forests, forest margins, broad-leaved forests, humus-rich rocks along valleys; 300-2200 m.
Bhutan, Cambodia, India: Meghalaya, Sikkim, Arunachal Pradesh, Assam, Indonesia, Japan, Laos, Malaysia, Myanmar, Nepal, Papua New Guinea, Thailand, Vietnam
---
Location: Chalnakhel, Pharping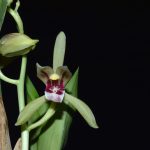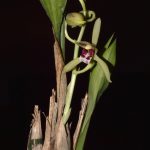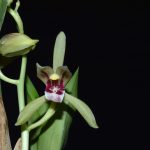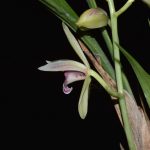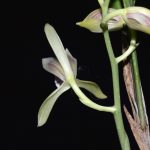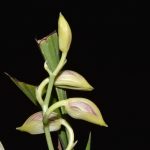 Cymbidium lancifolium Hook.
: 6 very high res. images.
Location: Kathmandu, Central Nepal
Altitude: 1400 m.
Date : 30 May 2021
Habitat : Collected from wild
---
Yes flowering here in HK too. Cymbidium lancifolium..
---