Syn: F. escelsoir Auct. (non L.); Clarke in FBI
Deciduous tree

with 20-35 cm long leaves with 5-9 leaflets, elliptic to obovate, acuminate, nearly entire to slightly crenate-serrate especially in upper portion. Flowers lacking both calyx and corolla. 
Samarae lanceolate, 3-4 cm long, 6-8 mm broad, in pendulous decussate panicles., 
Clicked
from Dachhigam, Kashmir
, 10-6-2012
I am also enclosing picture of fruiting Herbarium specimen collected on 6-5-1971. preserved in SGTB Khalsa College Herbarium, Delhi and Kashmir University Herbarium.
The similar looking F. floribunda has thicker leaflets with distinctly serrate margins, calyx and corolla both present and linear samaras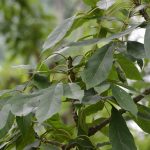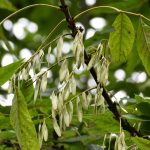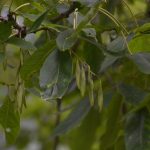 request for Fraxinus id
:
Please check the attached images of Fraxinus. It seems F.hookerii for me.
Captured at Bhalessa Doda JK
ID seems correct!
---