Ornithogalum saundersiae 
Baker, Gard. Chron. III, 10: 452 1891. (syn:
Galtonia saundersiae
(Baker) Mart.-Azorín, M.B.Crespo & Juan;
Ornithogalum excelsum
Diels ex Engl.);
.
Mpumalanga to KwaZulu-Natal:
KwaZulu-Natal, Northern Provinces, Swaziland
as per
POWO
;
.
---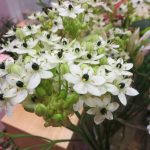 Cultivated Flowers for ID : Muscat : 18OCT20 : AK-29 : 3 posts by 2 authors. Attachments (1)
Flowers seen at a flower shop.
Seems from the Alliaceae family.
---
May be Allium or related genera ?
---
I searched in Allium but can't find a match.
---
Flowers are close to Allium nigrum, but the black portion is confusing me.
---
Please check Ornithogalum arabicum or Ornithogalum saundersiae.
---
You got them right.
Ornithogalum saundersiae looks more closer to my picture.
---