Taxus baccata L., Sp. Pl. 1040 1753. (Syn: Cephalotaxus adpressa Beissn.; Cephalotaxus brevifolia Beissn.; Cephalotaxus tardiva Siebold ex Endl.; Taxus adpressa Carrière; Taxus aurea K.Koch; Taxus baccata var. adpressa-aurea A.Henry ……………………….;  Taxus baccifera Theophr. ex Bubani; Taxus columnaris K.Koch; Taxus communis J. Nelson [Illegitimate] ..; Taxus disticha Wender. ex Henkel & Hochst. [Invalid]; Taxus dovastonii Carrière [Invalid]; Taxus elvastonensis Beissn.;                                                              Taxus empetrifolia Gordon [Invalid];  Taxus erecta Carrière [Invalid]; Taxus ericoides Carrière [Invalid]; Taxus expansa K.Koch;  Taxus fastigiata Lindl.;  Taxus foxii Carrière [Invalid]; Taxus hibernica Hook. ex Loudon [Invalid]; Taxus horizontalis Carrière [Invalid]; Taxus imperialis Gordon [Invalid];                                                             Taxus jacksonii K.Koch;  Taxus lugubris Salisb. [Illegitimate]; Taxus marginata Carrière [Invalid]; Taxus michelii Carrière [Invalid]; Taxus microphylla Gordon [Invalid]; Taxus mitchellii Carrière [Invalid]; Taxus monstrosa Gordon [Invalid];  Taxus nana Parl. [Invalid]; Taxus parvifolia Wender.; Taxus pectinata Gilib. [Invalid];  Taxus pendula Carrière [Invalid]; Taxus pyramidalis Carrière [Invalid]; Taxus pyramidalis (hort. ex Ravenscr., C. Lawson & et al.) Severin; Taxus recurvata C.Lawson; Taxus sparsifolia Loudon [Invalid]; Taxus tardiva (Siebold ex Endl.) C.Lawson; Taxus variegata Carrière [Invalid]; Taxus virgata Wall. ex Gordon [Invalid]; Verataxus adpressa (Carrière) Carrière);
.
Native to: Albania, Algeria, Austria, Baleares, Baltic States, Belarus, Belgium, Bulgaria, Central European Rus, Corse, Czechoslovakia, Denmark, East European Russia, Finland, France, Germany, Great Britain, Greece, Hungary, Iran, Ireland, Italy, Kriti, Krym, Morocco, Netherlands, North Caucasus, North European Russi, Northwest European R, Norway, Poland, Portugal, Romania, Sardegna, Sicilia, South European Russi, Spain, Sweden, Switzerland, Transcaucasus, Turkey, Turkey-in-Europe, Ukraine, Yugoslav; Introduced into: Madeira, New York as per POWO;
.
---
Taxus baccata is a conifer native to western, central and southern Europe, northwest Africa, northern Iran and southwest Asia.[1]
It is the tree originally known as yew, though with other related trees becoming known, it may now be known as English yew, or European yew.
It is a small- to medium-sized evergreen tree, growing 10–20 metres (33–66 ft) (exceptionally up to 28 metres (92 ft) ) tall, with a trunk up to 2 metres (6 ft 7 in) (exceptionally 4 metres (13 ft)) diameter. The bark is thin, scaly brown, coming off in small flakes aligned with the stem. The leaves are lanceolate, flat, dark green, 1–4 centimetres (0.39–1.6 in) long and 2–3 millimetres (0.079–0.12 in) broad, arranged spirally on the stem, but with the leaf bases twisted to align the leaves in two flat rows either side of the stem, except on erect leading shoots where the spiral arrangement is more obvious. The leaves are highly poisonous.[1][4]
The seed cones are highly modified, each cone containing a single seed 4–7 millimetres (0.16–0.28 in) long partly surrounded by a modified scale which develops into a soft, bright red berry-like structure called an aril, 8–15 millimetres (0.31–0.59 in) long and wide and open at the end. The arils are mature 6 to 9 months after pollination, and with the seed contained are eaten by thrushes, waxwings and other birds, which disperse the hard seeds undamaged in their droppings; maturation of the arils is spread over 2 to 3 months, increasing the chances of successful seed dispersal. The seeds themselves are extremely poisonous and bitter, but are opened and eaten by some bird species including Hawfinches[5] Greenfinches and Great Tits.[6] The aril is not poisonous, and is gelatinous and very sweet tasting. The male cones are globose, 3–6 millimetres (0.12–0.24 in) diameter, and shed their pollen in early spring. It is mostly dioecious, but occasional individuals can be variably monoecious, or change sex with time.[1][4][7]
(From Wikipedia  on 10.12.13)
.
---
SK1691 02 Jan 2019 : 10 posts by 4 authors. 3 very high res. images.
Location : Jackson Height, New York, USA
Date : 24 October 2013
Altitude  25 m.
Habit : Cultivated
Which Taxus sp. ?
---
The fruit reminds me of the english yew. a taxus. may be taxus baccata. only the person who planted it would know if it came with a tag from the nursery or we did an extensive photography for id purposes. so need more pictures. the red aril is edible, but the black seed (and all parts of the yew) are highly toxic
---
It was on a roadside.
---
i hope you took lots of pictures of the whole tree
---
It was just a beginning and ignorant about the aspects of plant photography then, so not many pictures of the plant.
---
…, There is no shame in admitting ignorance when one is first learning.
I have been learning for only 8 years and I only now realize the importance of taking an excessive amount of images – the entire plant, leaf front, leaf back. bloom, back of bloom, leaf arrangement along the stem, the margin of the leaf, venation, seed pod, etc. Oh, so many images needed to obtain an identification. The photo of the Yew berry is exquisite. Be proud of what you have done and no need to apologize for what you have not done.
---
I guess I have improved a bit with the guidance and suggestions from you and other senior members but still a long way to go.
---
.
Taxus baccata from SFO California-GS31102020-1 : 1 post by 1 author. Attachments (2)
Taxus baccata from San Francisco Botanical Garden, California, 16-7-2008.
---
.
---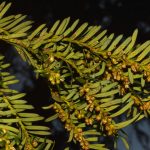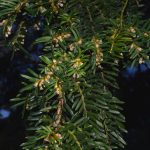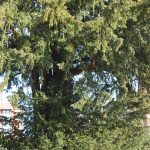 SK 3357 14 March 2022: 3 very high res. images.
Location: Langton Garden, Romford, UK
Date: 26 February 2022
Habit : Cultivated
---
Taxus baccata …. common name yew
Your pic shows the tiny male flowers.
---
Thank you … !
Source of  Taxol used to prepare medicine for cancer.
In Nepal, we have 3 sp.
---
---
.
References:
POWO  The Plant List  GRIN  Wikipedia  IUCN Red List (LC) Medicinal Plants in India: Taxus baccata seedlings  Impact of bark removal on survival of Taxus baccata L. (Himalayan yew) in Nanda Devi Biosphere Reserve, Garhwal Himalaya, India