Jasminum caudatum Wall. ex Lindl., Edwards's Bot. Reg. 28: t. 26 1842. (syn: Jasminum ovatum Wall.);
.
Indian Subcontinent to Andaman Islands: Andaman Is., Assam, Bangladesh, East Himalaya, India, Nepal as per POWO;
.
---
Climbing shrubs; stem smooth, rounded, glabrous. Leaves opposite, trifoliolate, glabrous, subcoriaceous; rachis to 3 cm long, usually with a pulvinous base; leaflets lanceolate or ovate-lanceolate, caudate to acuminate at apex, acute or obtuse or cuneate at base, entire, membranous, shining, venation more or less reticulate, distinctly nerved, primary veins 6-8 per side, shallowly impressed above, raised beneath, terminal leaflet 9-11 x 3-4.5 cm, lateral 8-10 x 2.5-3 cm. Inflorescence terminal or occasionally axillary, cymose-paniculate, to 8 cm long, 3 to many-flowered; pedicels short, to 4 mm long. Calyx tube to 3 mm long, dentate. Corolla white, tube to 2.5 cm long; lobes 5-7, oblong-linear, 1.3 x 0.5 cm, slightly obtuse at apex. Stamens 2, arising from the middle of the corolla-tube. Style included within the corolla-tube. Fruit to 16 mm long, ovoid, ripening black, often paired.
Flowering and fruiting: August-February
Evergreen and semi-evergreen forests
India, Bangaldesh and Bhutan
(Attributions- Dr. N Sasidharan (Dr. B P Pal Fellow), Kerala Forest Research Institute, Peechi as per 
India Biodiversity Portal
)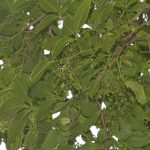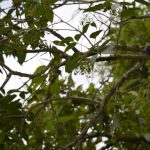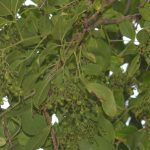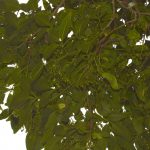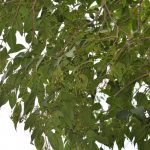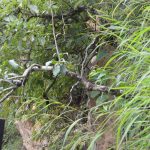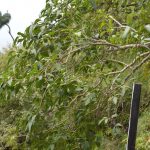 SK 2782 15 October 2020 : 30 posts by 5 authors. 7 very high res. images.
Location: Badikhel, Lalitpur
---
Any idea about the family?
---
Bischofia javanica Blume ??
---
Trifoliate leaves remind me of Vitex related species ??? A guess !
---
Vitex trifolia L. or Vitex peduncularis Wall. ex Schauer??
---
I too agree with …, it could be Vitex,
---
Any other sp is there …, rather than what you suggested,
---
Check with peduncularis …
---
Oleaceae. May check Linociera.
---
Does not look like …! It is trifoliate!
---
I do not think matches with any Vitex species as per comparative images herein.
---
---
Can you check 
Jasminum
 as per Checklist of Nepal?
---
---
Looks matching but confused due to a great difference of approx. 3200ft. in elevation.
---
Any chance of this being near habitation?
---
This was in the wild near to Phulchoki hill!
---
Also there is no specimen in GBIF from Nepal (means not properly documented in Nepal).
So there is not much difference in elevation.
---
---
.
---

Unknown Tree from Manipur: 2 high res. images.
Please Suggest to me the ID of this plant.
Place of observation: Shirui Hill, Manipur
Altitude: 2192m above sea level
---
Pl. check for Jasminum
---
Jasminum caudatum Wall. ex Lindl. !
---
Yes, appears close to images at
https://efloraofindia.com/2020/12/11/jasminum-caudatum/
---
---
.
References:
POWO  Catalogue of Life  The Plant List Ver.1.1  WCSP  specimens from India in GBIF (High resolution specimens) High resolution specimen  High resolution specimen 2  Annotated checklist of Flowering plants of Nepal  India Biodiversity Portal  IBIS Flora (FBI) Kerala plants  Plant illustrations  Bhutan Biodiversity Portal
Jasminum caudatum Wall. ex Lindl. (Oleaceae)- A New Record for Peninsular India Santhosh Kumar E.S.  Seema G Gopal & Govinda Pillai Mohandas Nair- January 2007