Adenostemma viscosum J. R. Forster & G. Forst., Char. Gen. 45 1775. (syn: Adenostemma aquaticum (Roxb.) D. Don; Adenostemma dregei DC.; Adenostemma erectum DC.; Adenostemma fastigiatum (Bl.) DC.; Adenostemma glutinosum (Gaud.) DC.; Adenostemma lavenia var. viscosum (J. R. Forst. & G. Forst.) M. R. Almeida; Adenostemma leiocarpum DC.;  Adenostemma natalense DC.; Adenostemma ovatum Miq.; Adenostemma perrottetii DC.; Adenostemma rivale Dalz.; Adenostemma tinctorium (Lour.) Cass.; Ageratum aquaticum Roxb. ; Ageratum strictum Sims; Anisopappus candelabrum H. Lév.;  Ethulia aquatica Roxb. ex DC.; Lavenia alba Wall.; Lavenia aquatica (Roxb.) Spreng.; Lavenia carnosa Wall.; Lavenia dentata Wall.; Lavenia divaricata Ham. ex DC.; Lavenia elata Spreng.; Lavenia fastigiata Bl.; Lavenia glutinosa Gaud.; Lavenia latifolia Spreng.; Lavenia nudiflora Hort. ex DC.;  Lavenia viscida Buch.-Ham.; Myriactis candelabrum (H. Lév.) H. Lév.; Spilanthes tinctorius Lour.);
.
China (Anhui, Fujian, Guangdong, Guangxi, Guizhou, Hainan, Hunan, Jiangsu, Jiangxi, Yunnan, Zhejiang), Taiwan, South Korea, South China Sea islands, South Africa (Mpulamanga, KwaZulu-Natal), Senegal, Mali, Guinea, Guinea-Bissau, Burkina Faso, Sierra Leone, Liberia, Togo, Benin, Ivory Coast, Ghana, Nigeria, Cameroon, So Tom, Annobon, Gabon, Central African Republic, D.R. Congo (Zaire), Congo (Brazzaville), Burundi, South Sudan, Ethiopia, Zambia, Malawi, Zimbabwe, Eritrea, Bioko Isl. (Fernando Poo), Sao Tome, Mozambique, Madagascar, Mauritius, Indonesia, peninsular Malaysia, Singapore (I), Thailand, Laos, Vietnam, Philippines (Babuyan, Luzon, Culion, Catanduanes, Panay, Camiguin, Mindanao), Java, Australia (Cooktown in Queensland to Newcastle in New South Wales), Japan (Honshu, Shikoku, Kyushu), Ryukyu Isl., Galapagos Isl. (I), Ecuador (I), Nicaragua (I), Colombia (I), ?New Caledonia, Fiji, Tuamotu Arch., Micronesia (Murilo, Nomwin, Kosrae), Marquesas Isl. (Nuku Hiva, Hiva Oa, Fatu Hiva), Austral Isl. (Rurutu), American Samoa (Ta'u), Western Samoa (Upolu, Savaii), Volcano Isl. (Minami-Iwojima), Hawaii (Kauai, Oahu, Molokai, Lanai, Maui, Hawaii Isl.), Andamans (North Andamans, Middle Andamans, South Andamans, Little Andaman Isl.), Nicobars (Car Nicobar Isl., North Nicobars, Central Nicobars, Great Nicobar Isl., Little Nicobar Isl.), Myanmar [Burma] (Bago, Mandalay, Yangon), Bhutan, Pakistan (Chitral, Hazara, Pakistani Punjab), Jammu & Kashmir (Poonch, Kashmir, Jammu), Maldives as per Catalogue of Life;
.
---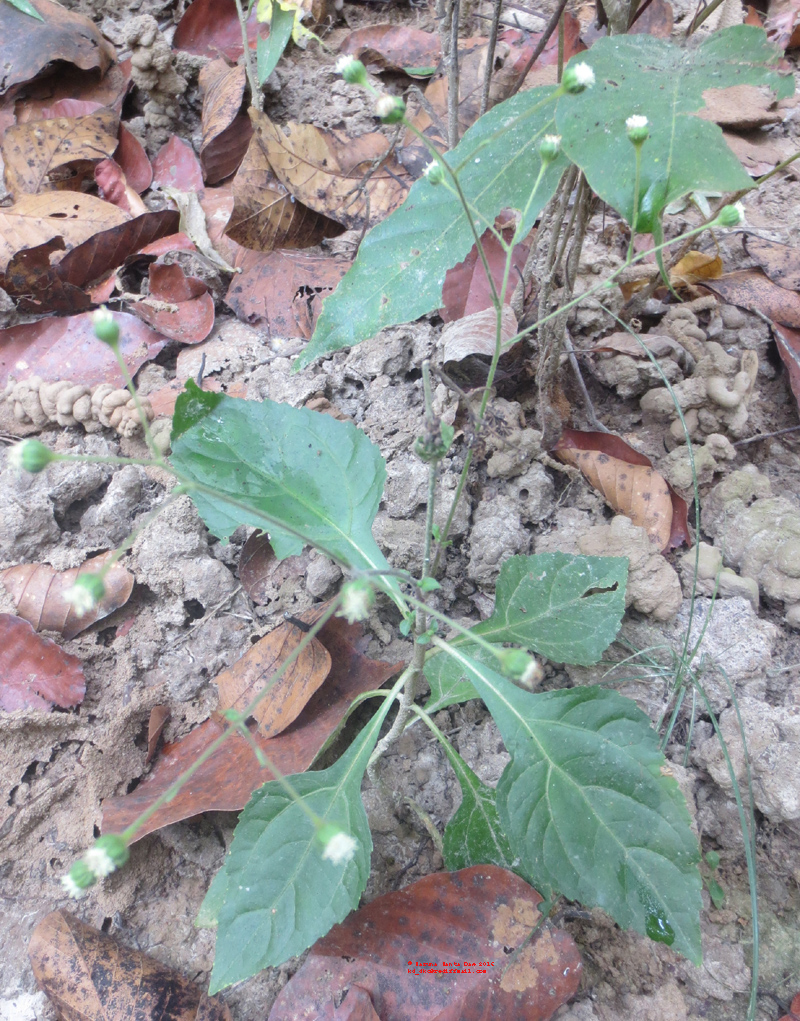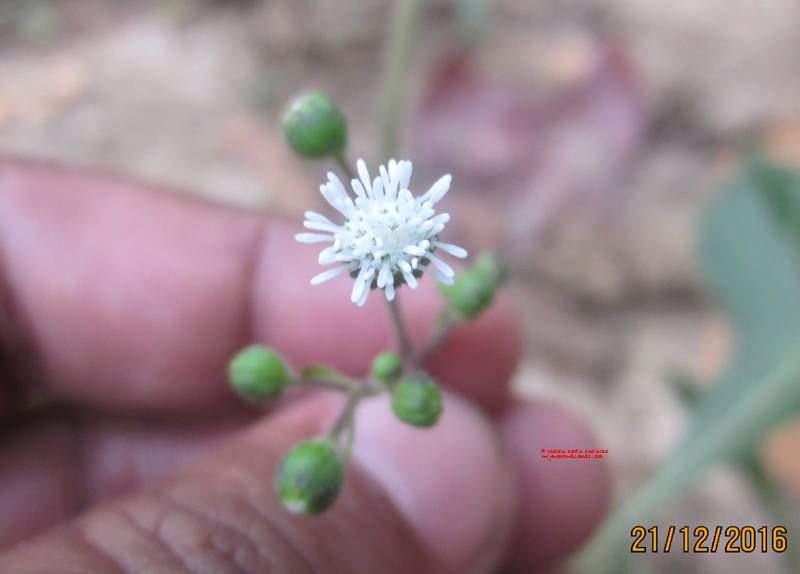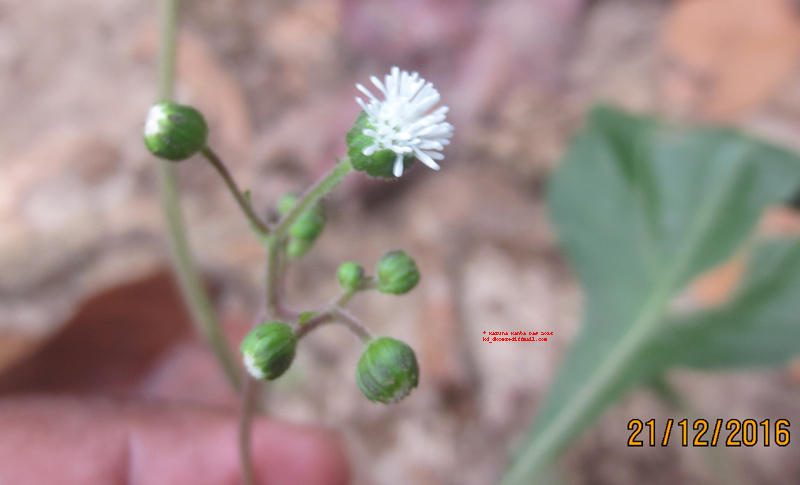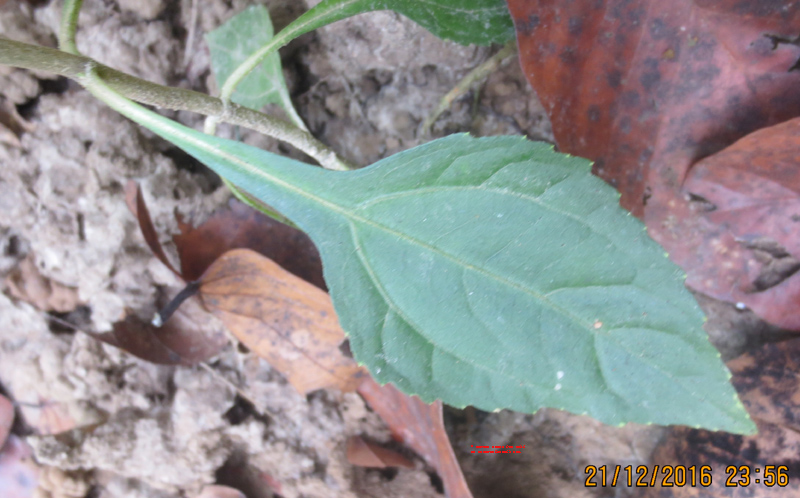 Asteraceae member from Asaam KD 02 2016
: 11 posts by 4 authors. Attachments
(4)
Attached images are Asteraceae member. Please ID the plants.
Date : 22.12. 2016
Location: Assam

Family : Asteraceae
Genus & species : ???
Habitat: Grows wild on under Sal forest
Habit : Herb

Flower :

White
---
seems to me Adenostemma lavenia pl
---
To me it looks different from images at  Adenostemma lavenia
---
Might it be Adenostemma viscosum J. R. Forster & G. Forst.? CoL
Thanks, …
It appears close as per images/ illustrations/ details of Adenostemma viscosum J. R. Forster & G. Forst. at
However, this species is not given in the Flora of India Checklist as per details below:
However, it gives lot of varieties of
Adenostemma lavenia
(L.) Kuntze as per details at
efloraindia
---
I could find only one link in GBIF sowing record of Adenostemma viscosum J.R.Forst. & G.Forst. in Assam . So I am confused between this one and Adenostemma lavenia (L.) Kuntze
---
I guess Adenostemma viscosum J.R.Forst. & G.Forst. is the correct ID .
---
.
References:
POWO  Catalogue of Life  The Plant List Ver.1.1  GCC  IPNI  GBIF (High resolution specimens) PROSEA  Lucid Central Flora of Mozambique