Pseudoxytenanthera stocksii (Munro) T.Q.Nguyen, Bot. Zhurn. (Moscow & Leningrad) 76: 993 1991. (syn: Dendrocalamus stocksii (Munro) M.Kumar, Remesh & Unnikrishna; Gigantochloa stocksii (Munro) T.Q.Nguyen; Oxytenanthera stocksii Munro; Pseudotenanthera stocksii (Munro) R.B.Majumdar);
.
India; Vietnam as per Catalogue of Life
.
---
Shrubs; stems glabrous or softly pubescent, slender, grey-green, solid; nodes with a softly pubescent ring. Leaves 10-20 x 1.2-2 cm, shortly petioled, tip setaceous, base rounded or cuneate, beneath glabrous or hairy, midrib narrow; nerves 5-6; sheath striate; ligule rather long, toothed. Spikelets 1 cm long, in globose heads spinescent, glabrous, fertile and sterile; empty glumes 2, ovate, mucronate, 5-7 nerved; flower glumes 2 ovate, subacute, dorsally mucronate. Anthers short, acute. Ovary ovoid, hairy; style long, slender; stigma 1, simple, plumose. Grain elongate, beaked, smooth.
Banks of rivers
Peninsular India
(Attributions- Dr. N Sasidharan (Dr. B P Pal Fellow), Kerala Forest Research Institute, Peechi as per India Biodiversity Portal)
.
---
Bamboo-for id.: 3 images.
your help in id. of this wild bamboo.
location: Aambyvalley Rd., Off Lonavala, Pune
date: march 19
habitat: wild
---
Dendrocalamus strictus
---
Maybe Gigantochloa apus
---
Dendrocalamus stocksii
---
.
---
please help in identification.
date/time: Aug 17
location: Aambyvalley Rd., off Lonavala, Pune
other info: quite common wild bamboo. I personally think it is Bambusa balcooa
---
OK but for the record I did not find any thorns or flowers
---
Dendrocalmus strictus it is I think
---
How did you identify this as Dendrocalamus strictus ?
To me looks different as per images at
Dendrocalamus stocksii
---
.
---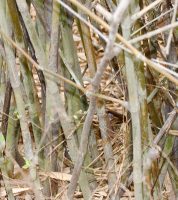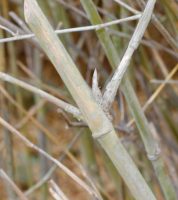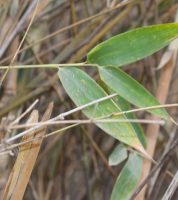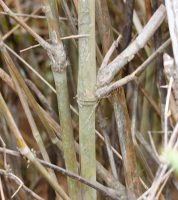 Bamboo for id.: 4 images.
Pictures taken at Aambyvalley rd., Lonavala in May 22
---
Dendrocalamus stocksii (Pseudoxytenanthera stocksii, Oxytenanthera stocksii, Gigantochloa stocksii)
---
---
.
References:
POWO  Catalogue of Life  The Plant List Ver.1.1  WCSP  IPNI  India Biodiversity Portal
Dendrocalamus stocksii (Munro.): A Potential Multipurpose Bamboo Species for Peninsular India– Edition: 2013- Publisher: Institute of Wood Science and Technology (Indian Council for Forestry Research & Education) Bangalore
Green Gold Manga Bamboo (Dendrocalamus stocksii) for Commandable Profit from Cultivable Wasteland