Tricholepis chaetolepis (Boiss.) Wendelbo, Österr. Bot. Z. 97 251 1950. (syn: Jurinea chaetolepis Boiss.; Stechmannia chaetolepis (Boiss.) Sojak; Tricholepis chaetolepis (Boiss.) Rech. fil.; Tricholepis spartoides C. B. Cl.; Tricholepis toppinii Dunn);
.
India (NW-Himalaya), Pakistan (Chitral), Pakistani Kashmir (Gilgit), Afghanistan (Kabul, Nangarhar) as per Catalogue of life;
.
---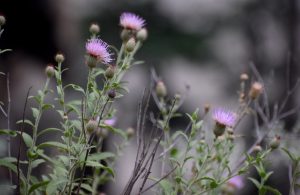 Request for identification of Tricholepis species.
1 image.
captured at Paddar Jammu
altitude approx. 3000m
---
Tricholepis stewartii C.B.Clarke ex Hook.f. ??
---
thank you sir, it looks T.stewartii. checked from the
What are the species reported from your area?
---
i have seen T.roylei only, this one was unidentified from 2018. Next year i definitely collect it for Herbarium.
---
This is Tricholepis chaetolepis as per GBIF– specimen from Pakistan
---
References: POWO  Catalogue of Life  The Plant List Ver.1.1  GCC  IPNI  GBIF– specimen from Pakistan (High resolution specimens)