Galium odoratum (L.) Scop., Fl. Carniol., ed. 2, 1: 105 (1771) (syn: Asperula eugeniae K.Richt.; Asperula matrisylva Gilib., opus utique oppr.; Asperula odora Salisb., nom. superfl.; Asperula odorata L.; Asterophyllum asperula Schimp. & Spenn.; Asterophyllum sylvaticum Schimp. & Spenn.; Chlorostemma odoratum (L.) Fourr.; Galium matrisylva F.H.Wigg., nom. superfl.; Galium odoratum var. eugeniae (K.Richt.) Ehrend., no basionym ref.);
Temp. Eurasia, Algeria as per POWO;
.
Albania; Algeria; Austria; Baltic States; Belarus; Belgium; Bulgaria; Central European Rus; China North-Central; China South-Central; Corse; Czechoslovakia; Denmark; East European Russia; Finland; France; Germany; Great Britain; Greece; Hungary; Illinois; Inner Mongolia; Iran; Ireland; Italy; Japan; Korea; Krym; Manchuria; Netherlands; North Caucasus; North European Russi; Northwest European R; Norway; Poland; Qinghai; Romania; Sicilia; South European Russi; Spain; Sweden; Switzerland; Transcaucasus; Turkey; Turkey-in-Europe; Ukraine; West Siberia; Xinjiang; Yugoslavia as per Catalogue of Life;
.
---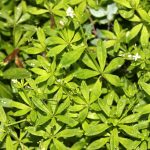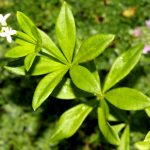 Galium odoratum from California-GS09012021-1
Galium odoratum (Linn.) Scop
sweetscented bedstraw
Perennial herb widely cultivated for its fragrant flowers and leaves, used in wines, juices, ice cream and herbal teas. Photographed from Tahoe, California, 5-8-2017.
---
References: POWO  Catalogue of Life
https://gobotany.nativeplanttrust.org/species/galium/odoratum/
https://plants.ces.ncsu.edu/plants/galium-odoratum/
https://www.missouribotanicalgarden.org/PlantFinder/PlantFinderDetails.aspx?kempercode=c820
https://en.wikipedia.org/wiki/Galium_odoratum