Pentasachme pulcherrima Grierson & D.G. Long, Notes Roy. Bot. Gard. Edinburgh 40(1): 123 1982. ;
.
East Himalaya, Nepal as per POWO;
.
---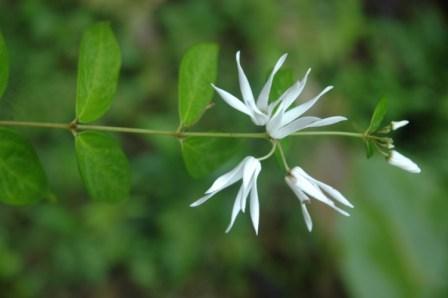 Attaching another herb collected from West Siang district of Arunachal Pradesh for identification.
---
Some primitive group of plant , i hope from the flower morphology but have never seen it.
---
I think this should be Pentasachme (Asclepediaceae)
---
Pentasachme sp has long linear leaves with acute apex but this plant has small roundish leaf with obtuse apex. The most fascinating point of the flower is that it lacks calyx hence perianth is present !!! Pentasachme does not lack calyx I hope ..
---
Unlikely that the calyx is absent. Can you send me better resolution pictures. Its a dicot with pentamerous flowers, it has to have calyx. I am pretty sure its Asclepiadaceae. If only you could send me the close up of the flower. The leaf shape could be variable. Only Magnoliaceae and some monocots have perianth but they dont have pentamerous flowers and opposite leaves.
---
this is some Asclepediaceae member for sure.
---
The plant is Pentasachme caudatum.
Please cross check the details with the plant.
leaves linear lanceolate, caudate – acuminate.
---
As pointed out by … P. caudatum has much narrower linear-lanceolate leaves.
This matches more with P. wallichii. Please compare the details.
The plant photo attach by the … is not resembles with the P wallichii
---
thats very interesting, we need to check if there is a third species of Pentasachme from other sources such as Flora of China and Bhutan.
And please send better pictures if any
---
There are five species of this genus. Two we have seen P. caudatum (eflora China) and P. wallichii (link given by me). The other three are P. championii, P. glaucescens and P. stauntonii. Let locate these three and compare.
---
Doesn't match the two species of Pentasachme reported from India, although similar to P. wallichiana
One other possibility is that it could be a species of Cynanchium.
Many of the himalayan species have long corolla lobes. Was it a twiner or an erect herb?
---
Thanx for taking much interest in resolviing the identity of this plant. It was a twinning herb as far as I can remember.
Hope we'd b able to identify the plant soon.
---
I belive this is Pentasachme wallichii. Usually grow on barren rock surfaces on shady sides.
---
I am attaching a photo of P. wallichii for comparison collected from Dibang Valley, Arunachal Pradesh. Attachments (1).
---
"Yes it may be a different species as … has mentioned in the thread that it was a small twiner. P.wallichii as posted by me and … are same in my opinion, both are small hanging herbs along waterfalls/ on dripping rocks and are never a twiner or climber.
As per Flowering Plants of India Dicotyledones (also as online Checklist of BSI) mention only three species in India. P.wallichii is known in all Himalaya and NE India while P.pulcherrima is known in C & E Himalaya. The third species P.caudatum is very different with very narrow leaves. However, an expert opinion will be more useful as I am not aware of East Himalayan flora.
…"
---
I think it may be Pentasachme pulcherrima as per GBIF– specimen 1 and specimen 2
Pl. confirm or otherwise.
---
I guess ID is correct !
---
---
.
References: POWO  The Plant List Ver.1.1  Tropicos  GBIF– specimen 1 and specimen 2 (High resolution specimens)  Annotated checklist of Flowering plants of Nepal   Bhutan Biodiversity Portal