Images by Tabish (Id suggestion by Gurcharan Singh) (Inserted by J.M.Garg) (For more photos & complete details, click on the links)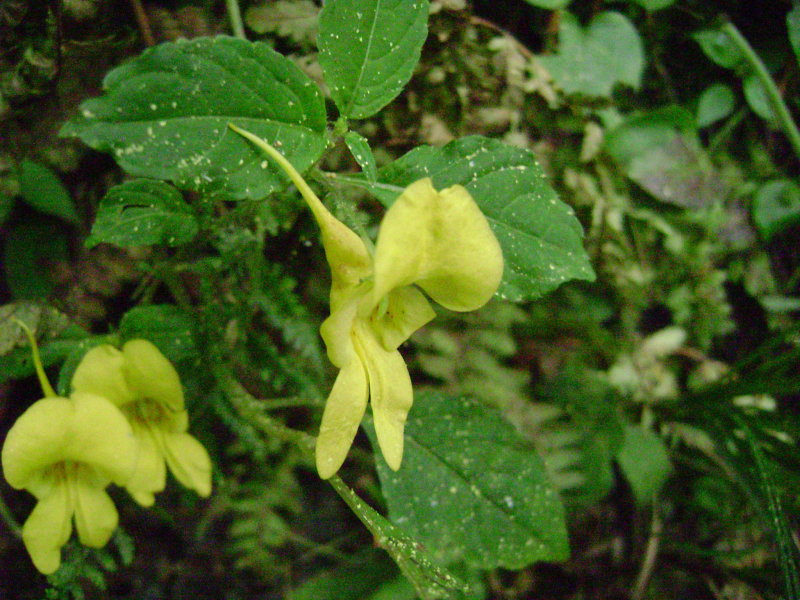 Photographed in Dhanaulti, Uttaranchal
2,300 m elevation
early October
Sorry for the quality of the picture – was taken at the fag end of the day – light was low, batteries were exhausted.
---
Yes, as far as I remember, the flower, including the spur was more than an inch. Normally I take one picture of the flower with my finger or with a pen, but just forgot for this one, as I was trying hard to take a decent picture in low light.
---
If the flowers are yellow, spotted with red, bigger than 2.5 cm, then this would be I. falcifer.
---
---
Impatiens laxiflora perhaps
---
Not I. laxiflora since leaves do not match.
---
This is a very different plant, and it needs detail study with dissected parts.
---
Could you identify it by now? Unfortunately not, …! With the limited images available, which aren't of a good quality, I don't think it is possible to pin it down. I will try to visit that area and capture it again, if I find it.
---