Potentilla recta L., Sp. Pl.: 497 (1753) (syn: Hypargyrium rectum (L.) Fourr.; Pentaphyllum rectum (L.) Nieuwland; Potentilla fallacina Blocki ex Th. Wolf; Potentilla fallacina Blocki ex Wolosz.; Potentilla fallacina Blocki ex Zimm.; Potentilla hirta var. afra Pau & Font Quer; Potentilla hirta subsp. recta (L.) Briq.; Potentilla hirta subvar tenuirugis (Pomel) Batt.; Potentilla obscura var. fallacina (Blocki) Markova; Potentilla pallens Moench; Potentilla pallida Lag. ex Bess.; Potentilla pseudopallida Siegfr.; Potentilla recta subsp. afra (Pau & Font Quer) Romo; Potentilla recta var. sulphurea (Lam.) Lam. & DC.; Potentilla reducta (Rouy & E. G. Camus) A. F. Hill; Potentilla sulphurea Lam.; Potentilla sulphurea var. achtarovii Markova; Potentilla tenuirugis Pomel ex Batt. & Trab.; Potentilla tenuirugis Pomel ex Batt. & Trab.; Potentilla tuberosa J. Wolff; Potentilla varnensis Velen.; Potentilla velenovskyi Hayek);
.
Medit. to NW. China and Iran as per POWO;
.
Albania, Austria, Bulgaria, Corsica, Czech Republic, Slovakia, France, Germany, Greece, East Aegaean Isl., Switzerland, Spain, Hungary, Italy, Bosnia & Hercegovina, Montenegro, Macedonia, Slovenia, Croatia, Serbia, Kosovo, Poland, Romania, Crimea, C- & E-European Russia, Belarus, Ukraine, Estonia, Latvia, Lithuania, Sardinia, Sicily, Belgium (I), Luxembourg (I), England (I), Finland (I), Netherlands (I), Norway (I), Sweden (I), Northern Caucasus, Azerbaijan, Armenia, Georgia [Caucasus], Siberia (W-Siberia), Kazakhstan, China (Xinjiang), Japan (I), Australia (I) (New South Wales (I), Victoria (I)), Algeria, Morocco, Turkey (E-Anatolia, Inner Anatolia, N-Anatolia, NE-Anatolia, NW-Anatolia: Bithynia, S-Anatolia, SE-Anatolia, SSW-Anatolia, W-Anatolia, WN-Anatolia), Cyprus (C-Mountains), European Turkey, Iran (N-Iran), Iraq (NE-Iraq), USA (I) (Alabama (I), Arkansas (I), California (I), Colorado (I), Connecticut (I), District of Columbia (I), Delaware (I), Florida (I), Georgia (I), Iowa (I), Idaho (I), Illinois (I), Indiana (I), Kansas (I), Kentucky (I), Louisiana (I), Massachusetts (I), Maryland (I), Maine (I), Michigan (I), Minnesota (I), Missouri (I), Mississippi (I), Montana (I), North Carolina (I), North Dakota (I), Nebraska (I), New Hampshire (I), New Jersey (I), Nevada (I), New York (I), Ohio (I), Oklahoma (I), Oregon (I), Pennsylvania (I), Rhode Island (I), South Carolina (I), South Dakota (I), Tennessee (I), Texas (I), Virginia (I), Vermont (I), Washington State (I), Wisconsin (I), West Virginia (I), Wyoming (I)), Canada (I) (Alberta (I), British Columbia (I), Manitoba (I), New Brunswick (I), Newfoundland (I), Nova Scotia (I), Ontario (I), Prince Edward Isl. (I), Quebec (I), Saskatchewan (I)), Argentina (I) as per Catalogue of Life;
.
---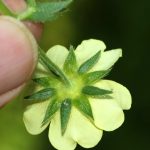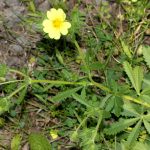 Potentilla recta from Canada-GS20012021-2
3 images.
Potentilla recta Linn.
Perennial herb with leaves somewhat like Cannabis, often confused but differentiated from P. gracilis in ephemeral basal leaves (replaced by fresh flush in late summer), spreading hairs on stem and leaves, pale yellow flowers and shorter style.
Photographed from Rattray Marsh, Mississauga, Canada, 23-8-2019.
---
---
.
References: POWO  Catalogue of Life  The Plant List Ver.1.1  IPNI  Wikipedia
https://www.illinoiswildflowers.info/weeds/plants/su_cinquefoil.htm
https://www.plants.usda.gov/core/profile?symbol=PORE5
https://www.fs.fed.us/database/feis/plants/forb/potrec/all.html
https://plants.ces.ncsu.edu/plants/potentilla-recta/
https://gobotany.nativeplanttrust.org/species/potentilla/recta/