Prunus salicina Lindl., Trans. Hort. Soc. London 7: 239 (1830) (syn: Cerasus salicina (G. Don); Cerasus triflora Wall. ex Steud.; Prunus armeniaca Blanco; Prunus botan André; Prunus ichangana C. K. Schneid.; Prunus masu Koehne; Prunus salicina var. columnaris (Uyeki) Uyeki; Prunus salicina var. cordata Y. He & J. Y. Zhang; Prunus triflora Roxb.; Prunus triflora var. columnaris Uyeki);
.
China (Anhui, Fujian, Gansu, Guangdong, Guangxi, Guizhou, Hebei, Heilongjiang, Henan, Hubei, Hunan, Jiangsu, Jiangxi, Jilin, Liaoning, Ningxia, Shaanxi, Shandong, Shanxi, Sichuan, Yunnan, Zhejiang), Taiwan, Russian Far East, Japan (I), Australia (I) (New South Wales (I)), Java (I), Burma (Kachin, Mandalay, Sagaing), Laos, Vietnam, Korea (I), Bolivia (c), Turkmenistan (I), Tajikistan (I), Uzbekistan (I) as per Catalogue of Life;
.
---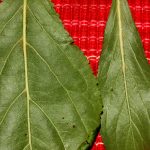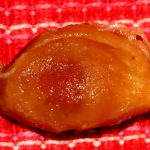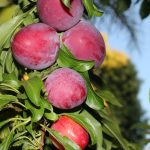 Prunus salicina 'Santa Rosa' from California-GS21012021-2
3 images.
Prunus salicina
Cultivar 'Santa Rosa'
The species is distinct from P. domestica in leaves glabrous beneath, narrower, fruit larger up to 7 cm in diam with rugose endocarp (leaves pubescent beneath, broader, fruit up to 3 cm across, endocarp smooth, scabrous or pitted).
Santa Rosa cultivar has purplish red fruits with aromatic red flesh. 
Photographed from Fremont, 11-6-21.
---
---
.
References: POWO  Catalogue of Life  The Plant List Ver.1.1  Wikipedia
https://plants.ces.ncsu.edu/plants/prunus-salicina/
https://www.cabi.org/isc/datasheet/44354
https://www.monrovia.com/santa-rosa-plum.html
https://www.specialitytrees.com.au/trees/prunus-salicina-santa-rosa-zaxl9
https://www.beebetternaturally.com/blog/2020/4/29/plum-prunus-salicina-santa-rosa-kind-culture-care-and-comments