Zehneria scabra (L. fil.) Sond., Fl .Cap. 2: 486 1862. (Syn: Bryonia angulata Thunb.; ……);
.
Tropical & Subtropical Old World: Angola, Assam, Bangladesh, Benin, Burkina, Burundi, Cameroon, Cape Provinces, Congo, East Himalaya, Eritrea, Ethiopia, Free State, Gulf of Guinea Is., India, Ivory Coast, Jawa, Kenya, KwaZulu-Natal, Lesotho, Lesser Sunda Is., Liberia, Malawi, Mozambique, Northern Provinces, Philippines, Rwanda, Saudi Arabia, Somalia, Sudan, Sulawesi, Swaziland, Tanzania, Uganda, Yemen, Zambia, Zaïre, Zimbabwe as per POWO;
.
---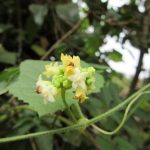 Climber For ID : Nairobi,Kenya : 08AUG16 : AK-05 : 05/05
2 images.
Climber seen growing wild in Nairobi.
Zehneria Species?
---
Could be a Species of Zehneria?
---
Zehneria scabra subsp. scabra
---
Pl. post high resolution images.
Check high resolution images with keys and similar species at PhytoKeys
---
Adding high resolution images.
3 images.
---
---
.
References: POWO  Catalogue of Life  The Plant List Ver.1.1
http://www.westafricanplants.senckenberg.de/root/index.php?page_id=14&id=3557#
https://www.zimbabweflora.co.zw/speciesdata/species.php?species_id=157030