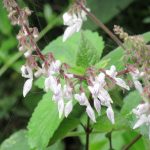 Plant for ID : Kenya : 27JAN21 : AK-32
1 image.
A wild plant seen in the forest.
I have only one clear image.
---
Plectranthus sp.
---
Orthosiphon rubicundus
---
Thanks … You got it right.
---
Only the purple lines on the flowers are confusing me.
---
Not Orthosiphon rubicundus as per images and details herein. 
---