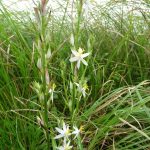 MS,Jan.2021/12 Chlorophytum sp. for id.
2 images.
Location : Reiek, Mizoram
Habitat : Wild
---
What are the species reported from your area?
---
Sorry !! Not found in the Book of Flora of Mizoram vol. I & II. I think this sp. is in vol.3 which not yet available
---
Difficult to identify solely on image. Looks like C. glaucum.
---
material is required for identification mere photographs are not enough. Hence, kindly send material if possible on my address.
---
Chlorophytum glaucum has got no distribution in Mizoram.
---
Chlorophytum nepalense
?
---
Does not look like!
---