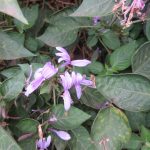 Plant for ID : Kenya : 30JAN21 : AK-37
1 image.
Plant with purple flowers, not sure if cultivated seen in Nairobi during July, 2016.
---
Acanthaceae ?? Dicliptera?
---
Can be Dicliptera candicans?
Just a suggestion.
---
Justicia ?
---
That may be possible.
---
Dicliptera candicans
 is not listed either in POWO or CoL.
But it is Dicliptera or related genus only and not Justicia.
---
Many of the plants I have posted from Nairobi are clicked
at the David Sheldrick Elephant Orphanage in Nairobi.
So they may not be native ones.
I also think Dicliptera to be the closest.
---