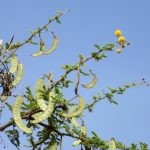 Acacia Species for ID : Kenya : 30JAN21 : AK-39
1 image.
Acacia Species seen on the way to Masai Mara Game Reserve.
Unfortunately, I have only one picture.
May be that's the reason I didn't post some of these earlier.
---
Maybe some Vachellia species as per comparative images herein.
---
Fruits not matched with eburnea
---
You are right.
The pods are looking different on searching.
Could be Vachellia oerfota. Just a guess.
---
Looks different as per
---
Also check for Vachellia xanthophloea.
---
Thanks … I have posted Vachellia xanthophloea earlier.
---