Dipterocarpus grandiflorus (Blanco) Blanco, Fl. Filip., ed. 2 314 1845. (syn: Dipterocarpus blancoi Blume; Dipterocarpus grandiflorus Griff.; Dipterocarpus griffithii Miq.; Dipterocarpus motleyanus Hook. fil.; Dipterocarpus pterygocalyx Scheff.; Mocanera grandiflora Blanco; Vatica trigyna Griff.);
.
Bangladesh to Indo-China, W. Malesia to Philippines (NW. Luzon): Andaman Is., Bangladesh, Borneo, Laos, Malaya, Myanmar, Philippines, Sumatera, Thailand, Vietnam as per POWO;
.
---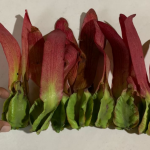 Tree for ID, Andaman NAW-FEB21-04
If possible, kindly identify this species from these winged pods, the local name is "Gurjan".
---
Dipterocarpaceae member
---
I found a paper online, "FLORA OF DHANIKHARI EXPERIMENTAL GARDEN-CUM-ARBORETUM, PORT BLAIR, ANDAMAN AND NICOBAR ISLANDS" by S. K. SRIVASTAVA and P. S . N. RAO, which claims that the local name Gurjan is used for the species Dipterocarpus grandiflorus.
---
---
.
References: POWO  Catalogue of Life  The Plant List Ver.1.1  IPNI  India Biodiversity Portal   Wikipedia  Flora fauna web  Useful Tropical Plants  Cabi  asianplant  stuartxchange