Melica scaberrima (Nees ex Steud.) Hook.f., Fl. Brit. India 7: 330 1896. (syn: Festuca scaberrima Steud., not validly publ.; Glyceria scaberrima Nees ex Steud.; Melica onoei subsp. scaberrima (Nees ex Steud.) W.Hempel; Schedonorus bromoides Wight ex Steud., pro syn.);
.
Pakistan to S. Central China: China South-Central, Nepal, Pakistan, Tibet, West Himalaya as per POWO;
.
---
Hook. f. ; branches of panicle elongate opposite alternate or 3-nate, spikelets 3-5-fld., gls. I and II ovate-lanceolate, flg. gls. narrowly lanceolate. Festuca scaberrima, Nees ex Steud. Syn. Gram. 316. Glyceria scaberrima, Steud. l.c. ; Duthie Grass. N.W. Ind. 41. Poa Zizania, Jacquem, mss.
WESTERN TEMPERATE HIMALAYA ; from Kashmir to Kumaon, alt. 6-10,000 ft.
Stem 3-5 ft., very slender, flaccid, smooth. Leaves 8-10 by 1/6-1/3 in., more or less scabrid ; sheaths scabrid, hirsute on the upper margins ; ligule short, truncate, 2-auricled. Panicle very variable, rarely reduced to a subsimple raceme ; rachis filiform ; branches 2-5 in., at length horizontal, often 2 in. apart, smooth or scabrid. Spikelets often irregularly disposed, shortly pedicelled, crowded on short branchlets, or distantly scattered, 1/4-1/2 in. long, pale green ; rachilla slender, scaberulous ; gl. I and II ovate-lanceolate, I 1-nerved ; II 3-nerved ; flg. gls. distant, lowest about twice as long as II, narrowly lanceolate, strongly 7-9-nerved, tip quite entire ; palea shorter than its gl., keels scaberulous. Lodicules very minute. Anthers variable in length. Grain subcylindric or fusiform.—Closely allied to the Affghan M. secunda, Regel (M. gracilis, Aitch. & Hemsl.) a native of Affghan, and Turkestan.
(Attributions- IBIS Flora (FBI) )
.
---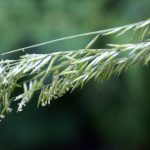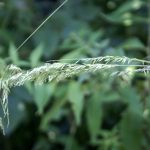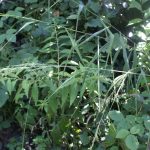 Andropogon sp. for ID from Kashmir-GS17022021-2
3 images.
Andropogon sp., please help with ID
Photographed from Dachhigam, Kashmir, 10-8-2011
---
Only one sp. 
Andropogon munroi C.B.Clarke seems to be 
recorded from Kashmir region.
---
Yes, thanks …
---
Melica scaberrima
---
References: POWO  Catalogue of Life  The Plant List Ver.1.1  WCSP  IPNI  Flora of China  FOC illustration  Flora of Pakistan  Annotated checklist of Flowering plants of Nepal  Flora of peninsular India  India Biodiversity Portal  IBIS Flora (FBI) Wikipedia