Angelica sylvestris L.,  Sp. Pl. 251 1753. (syn: Angelica alpina Krock. ex Steud.; Angelica brachyradia Freyn; Angelica ebulifolia Lapeyr.; Angelica elata Velen.; Angelica elatior (Wahlenb.) Dalla Torre; Angelica flavescens Hoffm.; Angelica globifera Freyn; Angelica illyrica K.Malý; Angelica macrophylla Schur; Angelica major Lag.; Angelica minor Gilib.; Angelica montana Brot.; Angelica nemorosa Ten.; Angelica pratensis J.Presl & C.Presl; Angelica razulii All.; Angelica reuteri Boiss.; Angelica ruthenica Schott ex Ledeb.; Angelica sylvestris subsp. bernardiae Reduron; Angelica villosa Lag.; Angelophyllum dahuricum Rupr.; Archangelica major Lag.; Athamanta sylvestris Weber; Carum angelicifolium Baker; Imperatoria angelica Borkh. ex G.Gaertn., B.Mey. & Scherb.; Imperatoria flavescens Besser; Imperatoria montana DC.; Imperatoria sylvestris Lam.; Peucedanum angelica Caruel; Peucedanum angelicifolium (Baker) Engl.; Selinum agriangelica E.H.L.Krause; Selinum angelica Roth; Selinum pubescens Moench; Selinum silvestre Pourr. ex Nyman; Selinum sylvestre (L.) Crantz);
.
Europe to Siberia and Mongolia: Albania, Altay, Austria, Baltic States, Belarus, Belgium, Bulgaria, Buryatiya, Central European Rus, Corse, Czechoslovakia, Denmark, East European Russia, Finland, France, Føroyar, Germany, Great Britain, Greece, Hungary, Iceland, Ireland, Irkutsk, Italy, Kazakhstan, Krasnoyarsk, Lebanon-Syria, Mongolia, Netherlands, North European Russi, Northwest European R, Norway, Poland, Portugal, Romania, Sicilia, South European Russi, Spain, Sweden, Switzerland, Transcaucasus, Turkey, Turkey-in-Europe, Tuva, Ukraine, West Siberia, Xinjiang, Yakutskiya, Yugoslavia as per POWO;
.
---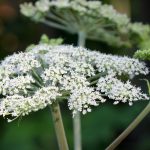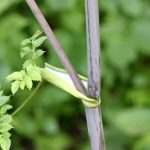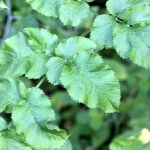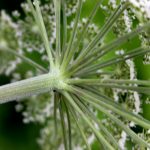 Angelica sylvestris from Miississauga Canada-GS05042021-1: 4 images.
Angelica sylvestris Linn.
Common name: Wild Angelica, Woodland Angelica
This wild European species has become invasive in Canada in recent years. characterised by its inflated sheath, small white flowers and winged 5-6 mm long fruits.
Photographed from Rattray Marsh, Mississauga, Canada, 23-8-2019.
---
---
.
References:
POWO  Catalogue of Life  The Plant List Ver.1.1  GBIF (High resolution specimens) Wikipedia Useful Temprate Plants
http://www.wildflowersofireland.net/plant_detail.php?id_flower=12
https://www.first-nature.com/flowers/angelica-sylvestris.php
https://www.luontoportti.com/suomi/en/kukkakasvit/wild-angelica