Piper khasianum C. DC., Prodr. 16(1): 349 1869. (syn: Piper curtistipes C. DC.; Piper mannii C. DC.);
.
Central & E. Himalaya to Peninsula Malaysia: Assam, Bangladesh, East Himalaya, Malaya, Myanmar, Nepal, Vietnam as per POWO;
.
---
Similar to P.suipigua but leaves membranous, lanceolate or narrowly ovate, 6-10 x 2-4cm, long-acuminate, base cuneate, 3-veined at base, with 2 further lateral veins arising 1-1.5cm above base; petiloes 4-8mm; axillary buds more numerous, 3-4mm; spikes shorter, 2-3cm, on peduncles 4-8mm; drupes globose, smaller, 3-4mm diameter, borne on short, stout stalk 0.5-1mm.
Fl. February-June
Subtropical forests.
(Attributions- A.C.J Grierson & D.G Long. Flora of Bhutan. Published by RBGE. 1984 as per Bhutan Biodiversity Portal
.
---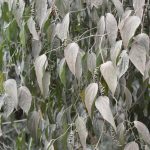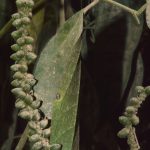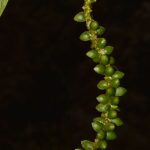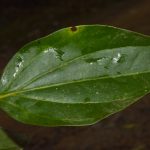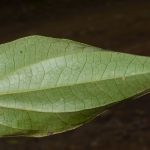 SK 2892 23 March 2021: 5 very high resolution images.
Location: Godawari, Lalitpur
Date: 11 March 2021
Habitat : Wild
Piper longum L. ??
---
Looks different from images at Piper longum
---
Checked all sp. 
Piper
 plus new one
P. rhytidocarpum
Hook. f. listed in Nepal
and I guess it matches with
Piper nigrum 
L. Leaf looks a complete match.
---
Sir it could be P. mullesua. But needs more representation.
---
But fruiting bunch looks completely different according to Piper mullesua Buch.-Ham. ex D. Don and my earlier posts on Piper mullesua Buch.-Ham. ex D. Don !
---
Though it has got no distribution in Nepal, could it be Piper hymenophyllum Miq. ??
---
It may not be hymenophyllum as hymenophyllum has longer fruiting spike and leaves are different in texture.
It probably P. khasianum C. DC
---
Thank you … ! I shall try to collect sp. and send you details !
---
---
.
References:
POWO  Catalogue of Life  The Plant List Ver.1.1  WCSP  IPNI  GBIF (High resolution specimens) High resolution specimen  High resolution specimen 2  India Biodiversity Portal  IBIS Flora (Flora of British India) Bhutan Biodiversity Portal