Enneapogon cenchroides (Licht.) C.E.Hubb., Bull. Misc. Inform. Kew 1934: 119 1934. (syn: Enneapogon abyssinicus (Hochst.) Rendle; Enneapogon mollis Lehm.; Pappophorum abyssinicum Hochst.; Pappophorum cenchroides Licht.; Pappophorum cenchroides var. albescens Schweinf.; Pappophorum molle (Lehm.) Kunth; Pappophorum robustum Hook.f.; Pappophorum senegalense Steud.);
.
Africa to India: Angola, Ascension, Botswana, Cape Provinces, Chad, Eritrea, Ethiopia, Free State, India, Kenya, KwaZulu-Natal, Madagascar, Mozambique, Namibia, Niger, Northern Provinces, Oman, Pakistan, Saudi Arabia, Somalia, Sudan, Swaziland, Tanzania, Uganda, Yemen, Zimbabwe as per POWO;
.
Common name: Grey Sour Grass, Soft feather pappusgrass, Common nine-awned grass
.
---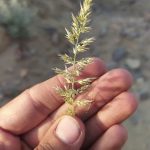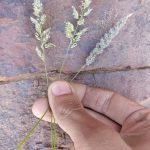 Need help with grass id (enneapogon?): 2 high resolution images.
Neemrana 1/1/2021
---
Enneapogon. Please show lower leaves too.
---
Enneapogon cenchroides
---
---
.
References: POWO  Catalogue of Life  The Plant List Ver.1.1  WCSP  IPNI  GBIF (High resolution specimens) Flora of Caprivi  Flora of Zambia Flora of Pakistan  Flowers of India  India Biodiversity Portal  IBIS Flora (Flora of British India) SANBI Kyffhäuser flora  SEINet