Habranthus × floryi Traub, Pl. Life 7: 121 1951. ;
.
---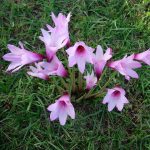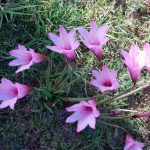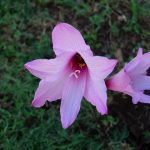 Lilies for ID : Nairobi, Kenya : 05APR21 : AK-04: 3 images.
These are very old pictures taken in Jan, 2009.
Had found these growing by the roadside.
Missed posting earlier.
Had done a lot of searching earlier.
Looks close to Habranthus Species.
Habranthus robustus?
Very few images are available on searching.
Perhaps a new addition for Eflora?
---
Habranthus brachyandrus can also be a possible id.
---
Maybe Habranthus × floryi as per comparative images at Pacific Bulb society.
---
But these were growing wild by the roadside, not cultivated.
---
Is there any native species in Kenya ?
---
I am not aware.
---
None of the species mentioned by you is likely to be found wild as per POWO 1 and POWO 2
---
Then it must have escaped from a garden close by.
Let us go with your suggested id.
---
---
.
References: POWO  The Plant List Ver.1.1  WCSP  IPNI  Pacific Bulb society