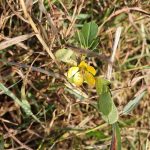 Senna Species for ID : Nasik : 29APR21 : AK-25: 1 image.
A small plant with a single flower.
---
Might be Senna tora or obtusifolia, any population photos?
---
This is the only image I have.
---
Resembles
Senna tora
,
any more information to confirm the species,
---
This was a very small plant.
---