Trigonella occulta Delile ex Ser., Prodr. 2: 185 (1825) (syn: Telis occulta (Delile ex Ser.) Kuntze; Trigonella arguta Vis.);
.
Egypt to NE. Sudan, Pakistan to NW. India as per POWO;
.
Egypt (N); Sudan (N); India (N): Gujarat; Haryana; Madhaya Pradesh; Maharashtra; Punjab; Rajasthan; Uttar Pradesh; Pakistan (N) as per ILDIS;
.
---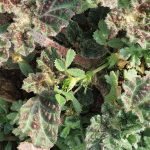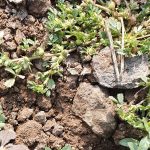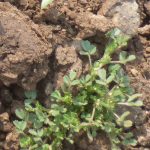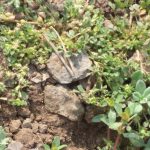 Tiny Herb for ID : Nasik : 23APR21 : AK-16: 6 images.
There are many tiny plants growing in this image.
A tiny herb
seen on the top and bottom
with tiny serrated leaves
is unknown to me.
Have tried to crop the image for a better look.
---
Adding the high resolution image.
---
Have tried to crop a few other images with the same herb. I hope it helps.
---
Shrikant Ingalhalikar Ji has identified this herb as Trigonella occulta. Rare
---
---
.
References: POWO  Catalogue of Life  The Plant List Ver.1.1  Tropicos  ILDIS  GBIF (High resolution specimens) High resolution specimen  Flora of Pakistan  FOP illustration Flora of peninsular India Trigonella occulta Delile (Fabaceae) is here recorded for the first time from Bihar  African Plant Database