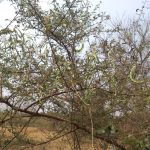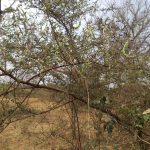 Acacia shrub SN13421: 2 high resolution images.
Wild acacia from Ballarpur area of Maharashtra
---
I could not find a match as per comparative images at Acacia
---
Prosopis ? But could not find a match.
---
Any pic or information about inflorescense, color of flower etc. Can check with two species of Prosipis (P. alba and P. palida) in addition to P. Juliflora. But definitely it's not P. cineraria. India has 14 native species of Acacia now have new name Vachellia for Indian or African origin.
---
Both species mentioned are not reported from India as per 
POWO 1
 and 
POWO 2
 and also look different.