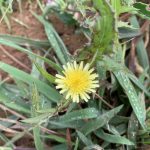 Malhargad near Pune, MH :: Sonchus for ID :: ARK2021-054:
Saw this Sonchus at Malhargad near Pune in July 2021 on a small hillock.
Unfortunately, have only these 2 pics, will it help in arriving at the ID?
Would appreciate any help in this matter.
---
Sonchus oleraceus L. ??
---
Yes, possible though the tip of the auricle is not visible.
---
OK … !
---