Fimbristylis squarrosa Vahl, Enum. Pl. Obs. 2: 289 1805. (syn: Iria squarrosa (Vahl) Kuntze; Pogonostylis squarrosus (Vahl) Bertol.; Scirpus squarrosus (Vahl) Poir.; Bulbostylis hirta (Thunb.) Svenson; Cyperus hirtus Thunb.; Fimbristylis comata Nees; Fimbristylis ecklonii Nees; Fimbristylis hirta (Kunth) Roem. & Schult.; Fimbristylis hirta var. canina (Schltdl.) R.Knuth; Fimbristylis hispidula var. canina Schltdl.; Fimbristylis michelii Bubani; Fimbristylis nana Roth; Fimbristylis propinqua R.Br.; Isolepis glaucescens Schrad.; Isolepis hirta Kunth; Scirpus aestivalis Wall.; Scirpus cornatus C.Wright; Scirpus hirtus (Kunth) Poir.);
.
Tropical & Subtropical Old World, Caucasus to Japan: Algeria, Angola, Assam, Bangladesh, Botswana, Burundi, Cameroon, Cape Provinces, Central African Repu, Chad, China North-Central, China South-Central, China Southeast, Congo, East Himalaya, Gabon, India, Iran, Japan, Jawa, Korea, Madagascar, Malawi, Mali, Manchuria, Mauritania, Mozambique, Myanmar, Namibia, Nepal, New South Wales, New Zealand North, Niger, Nigeria, Northern Provinces, Northern Territory, Philippines, Primorye, Queensland, Senegal, Sierra Leone, South Australia, Sudan, Sumatera, Taiwan, Tanzania, Tibet, Transcaucasus, Victoria, West Himalaya, Western Australia, Zambia, Zaïre, Zimbabwe; Introduced into: Argentina Northeast, Bolivia, Brazil North, Cuba, Fiji, Greece, Honduras, Italy, New Jersey, Paraguay, Peru, Uruguay, Venezuela as per POWO;
.
---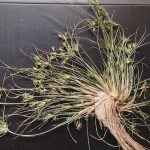 Requesting ID: 1 image.
Requesting to please ID this
plant collected by the lake
in 15 April 2021. 
Location : Pokhara, Nepal (Side of Fewa Lake)

Altitude : 800m
---
I think Kailinga sp
---
Check with Fimbristylis squarrosa
---
Thanks for the attempt …, It's different from Kyllinga,
---
Ok, I will check.
---
Looks like Fimbristylis squarrosa

---
.
---
Attached images may be Cyperus sp. Please ID the plant.
Family : Cyperaceae
Genus & species : Cyperus sp. (?)
Habitat: Grows wild on bank of the pond
Habit : Herb
---
Fimbristylis squarrosa Vahl ?
---
It can be Fimbristylis bisumbellata (Forssk.) Bubani or F. squarrosa Vahl, need a specimen to confirm the identity.
---
.
References: POWO  Catalogue of Life  The Plant List Ver.1.1  WCSP  IPNI  GBIF (High resolution specimens) Flora of China  Flora of Pakistan  FOP illustration Annotated checklist of Flowering plants of Nepal  Flora of peninsular India  India Biodiversity Portal  Useful Tropical Plants Flora of Zimbabwe