Tulipa lanata Regel, Trudy Imp. S.-Peterburgsk. Bot. Sada 8: 647 1884. ;
.
Afghanistan to Central Asia and W. Himalaya: Afghanistan, Pakistan, Tadzhikistan, Uzbekistan, West Himalaya as per POWO;
.
Common name: Woolly Red Tulip
.
---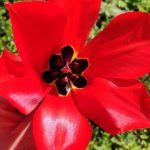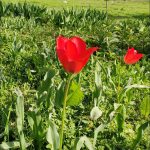 Tulipa agenensis: 2 high res. images.
Found this plant at Ganderbal. Jammu and kashmir.
---
Tulipa lanata
Tulipa lanata in Flora of Pakistan @ efloras.org
---
Resembles with T.agenensis, if I am correct
---
T. lanata is very common in Pampore Karewas and other parts of Valley. T. agenensis, on the other hand not reported from India, Pakistan.
---
May I request you to pl. post images of the leaves.
---
Sure, will do that. …
---
---
.
References: POWO  Catalogue of Life  The Plant List Ver.1.1  WCSP  IPNI  GBIF (High resolution specimens) Flora of Pakistan  Flowers of India  hortipedia  tulipsinthewild