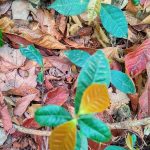 ID requested: Vine/creeper/climber: 1 high res. image.
Captured at an altitude of 850m inside the forest on April 15, 2021. I only have this photo. Leaves emerged from the forest floor while its parts were climbing in trees.
---
Remembering Xantolis tomentosa but not sure, exact Id possible to posted author only
---
It is not possible to ID correctly with this photograph. Unable to get the possible comparative photos on the NET as per the suggested ID of … More over
Xantolis tomentosa
is a tree. Whereas  … has reported it as vine/creeper/climber.
---
Just I remember the same that I observed seedlings of Xantolis in the field, …,
Actually, we are doing here photo taxonomy which is not correct scientifically,
we need complete information for exact ID as you said,
---
I fully agree with you. You  have an excellent knowledge of taxonomy and contributing a lot to the eflora group. I am proud of you.
---
I could not find any Xantolis sp. listed in Nepal. Xantolis tomentosa is found in India. Could it be this sp. ?
---