Ophiopogon micranthus Hook.f.,  Fl. Brit. India 6: 269 1892. (syn: Mondo japonicum var. micranthus (Hook.f.) Farw.);
.
Assam as per POWO;
.
---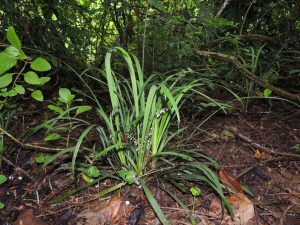 Ophiopogon micranthus: 1 high res. image.
Ophiopogon micranthus
Behali Reserve Forest, Biswanath, Assam, India
---
Any keys ?
---
I have collected this species in 2018 at an elevation of 50m asl. Till that time, I have only known O.intermedius and it occurs in elevations above 500 m approx (I believe) and several colour variations in the flowers can also be observed in the himalayas. The gross morphology, complanate scapes, thicker roots, inflorescence to scape proportion separates the species from its other congeners. Ophiopogon is definitely a very hard group, so I have contacted Dr. Noriyuki Tanaka regarding it, and he confirmed its identity.
You can also go through the article attached, which might be of help.
1 pdf attachment.
---
---
.
References: POWO  Catalogue of Life  The Plant List Ver.1.1  WCSP  IPNI  GBIF (High resolution specimens)  India Biodiversity Portal