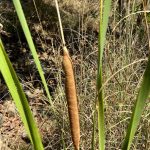 ID Request – 200521AS01 – Typha Angustifolia ?: 2 images.
Can you please help me ID this plant?
Date/Time- 20th May 2021
Location- Reni Pani Village, Near Satpura National Park,
Habitat- Wild
Plant Habit- The plant was growing along a water spillway. 
Height/Length- 4 ft
---
ID looks good.  But post the habit picture for proper ID.
---
Unfortunately I can't get a picture of the habit for this. The plant was growing in clayey brown soil, with a lot of moisture in in it. It was growing in partial shade.
Don't know if this helps? I can try and get a better picture for this, the next time I am in that area?
---
Typha elephantina Roxb. ??
---