Thottea duchartrei V. V. Sivarajan, A. Babu & Indu Balachandran, Indian J. Forest. 8: 267 1985 publ. 1986. (syn: Bragantia wallichii R. Br.);
.
SW. India as per POWO;
.
India (SW-Ghats (Kerala, Tamil Nadu)) as per CoL;
.
---
Herbs or undershrubs, branches flexuous, minutely pubescent on the younger parts, nodes swollen. Leaves alternate, oblong-lanceolate, acuminate, entire, shining green above, greyish pubescent or rufous below, 3-nerved from base, laterals exceeding the middle of the lamina; petiole 5-8 mm long. Flowers in 1-2 flowered axillary cymes; peduncles short, bracteate; buds 8 mm across, depressed globose or button like, softly pubescent all over, yellowish or purple tinted. Perianth 3-lobed, lobes as long as the tube, orbicular-acute, broader than long, 5 x 8 mm. Gynostemium 4-5 mm across, minutely glandular hairy. Stamens 9, united in 3 bundles in a ring around the stylar column, anthers extrorse, connective slightly produced. Ovary glabrescent, stylar lobes 8-10, linear. Capsules 6-10 cm long, green, glabrescent; seeds ellipsoid, trigonous, rugose.
Flowering and fruiting: Throughout the year
Evergreen and semi-evergreen forests
Southern Western Ghats
(Attributions- Dr. N Sasidharan (Dr. B P Pal Fellow), Kerala Forest Research Institute, Peechi as per India Biodiversity Portal)
.
---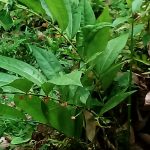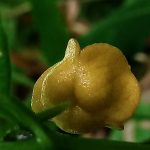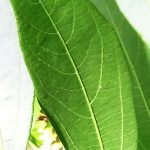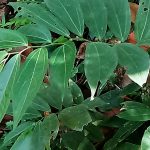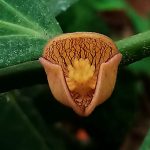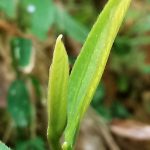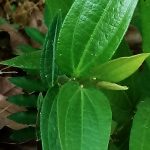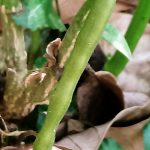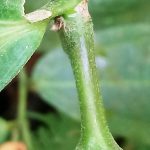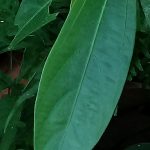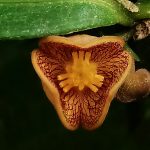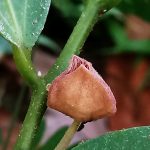 84 ID wild plant: 17 images.
Please ID wild plant,
Location: near Reserve Forest, Chathamattom, Ernakulam District, (Kochi) Kerala PIN:686671
Flower date: 11MAR2021, 02.05pm
Altitude: 1400fsl
Habitat: wild moisture
Plant habit: erect, branches, hard stem, perennial
Height: 03 meters
Leaves: alternate, oblong, apex
Flower: size diameter:08mm, yellow, non fragrant, view only white thread like design in flower through naked eye instead of black coloured design-amazing!!!
Fruit: rounded lengthy beans, green into yellow, size:7×.6cm
Camera: mobile LG K10 2017 13mp
---
Thottea duchartrei, family Aristolochiaceae, an endemic species of Kerala
---
Thottea siliquosa
---
Popowia beddomeana Hook.f. & Thomson. ??
---
For identification comparatively agree with …
---
Another wonder on it is an insect's egg chamber (or it is pupa stage?).  It's top is attached with strong fiber.  And for it's safety from egg eaters, the mother insect tied through its neck with a micro fiber (viewed only after photography) to stay it's erect position, to gives a terrible look. I am happy to share these images also.
7 attachments
---
Thottea sp. Aristalochiaceae
---
With Thottea siliquosa
---
This could be a species of Thottea (Aristolochiaceae)
---
This is
 Thottea duchartrei
as identified by … and as per comparative images at
Thottea
.
---
.
References: POWO  Catalogue of Life  The Plant List Ver.1.1  IPNI  GBIF (High resolution specimens) Flora of peninsular India  India Biodiversity Portal  Kerala plants Floral morphology and systematics of the genus Thottea Rottb. (Aristolochiaceae) from the Western Ghats, India